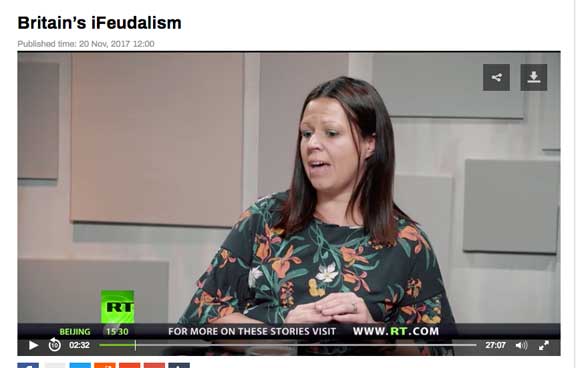 The efforts of Taylor Wimpey, Countryside Properties plc and the ground rent speculators to address unfair lease terms were exposed as public relations posturing on
TV this week.
The in-depth programme was made by independent producer Renegade Inc, and it goes out on Russia Today, YouTube and other media.
It can be viewed here:
In Europe during the Middle Ages, feudalism was the social order of the day. Society was structured between landowners and the landless. Astonishingly, that social order is on the rise again in the UK. A growing number of leasehold homeowners are at the mercy of a new class of rent-seeker – actively exploiting them in their own homes through onerous ground rents and permission fees.
One highlight was the rubbishing of the current ground rent review schemes by plc housebuilders and the tokenistic efforts of the ground rent funds (who are busy pretending that their anonymous investors, who may or may not be based offshore, are blameless pension funds).
Katie Kendrick, of the National Leasehold Campaign, and Sebastian O'Kelly, of LKP, demanded that the government intervene and impose transparency on this process.
The Communities Select Committee has been asked to summons the developers – primarily Taylor Wimpey – and insist that it reveal how many dodgy leases it sold to its customers and admit how many homebuyers are affected, and where.
At present, Taylor Wimpey's face-saving review is the minimum conceivable effort to address this scandal of its own making: only leaseholders who contact the company will have their leases varied.
LKP insists they all be summonsed before the Select Committee and "given the Philip Green treatment", to use Sir Peter Bottomley's phrase.
The Renegade Inc programme features a round-table interview with Katie Kendrick and Sebastian O'Kelly, and interviews with two victims of the leasehold houses scandal, Lisa Chappel and Andrea Millward.
In discuss with presenter Ross Ashcroft, the murky doings of Adriatic Land were addressed – it is Katie Kendrick's freeholder – and the involvement of William Waldorf Astor, owner of the Long Harbour fund and HomeGround (and step-brother-in-law to ex-prime minister David Cameron).
The fact that it costs £108 even to contact the company to ask for an utterly outrageous price for the freehold was ridiculed.
The Tchenguiz organisation and its family trust based in the British Virgin Islands were also mentioned.
"One Duke of Westminster is enough. Let's not create hundreds of them," Sebastian O'Kelly told viewers.
They may have been mystified by the strange workings of England's archaic property laws, although Russian oligarchs in, say, One Hyde Park, who have paid more than £100 million for a property, may be surprised to learn that they are in fact simply tenants.
Mr O'Kelly said of the programme: "The programme is professionally made and makes a compelling case to address leasehold reform.
"Washing England's dirty leasehold linen on Russia Today does not fill me personally with much enthusiasm, serving as it does Mr Putin's mischief-making in our democracy.
"At which point it is an obligation for all journalists to recall our murdered colleague Anna Politkovskaya."
No other reporter has been assigned Anna Politkovskaya's desk in Novaya Gazeta's newsroom. It remains as a memorial, alongside her photograph and those of other murdered journalists at the newspaper, and as a reminder of the danger of the work.