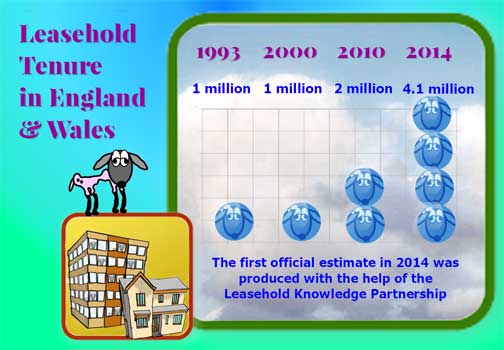 The government has just released another set of statistics on what they claim is the number of leasehold homes in England.
The numbers are wrong and the Secretary of State and the Housing Minister should be asking, how on earth are they meant to develop housing policy when their civil servants still don't know the numbers – even after LKP did all the work for them in 2014?
At first glance, the new 2015/16 government estimate of 4.2 million leasehold homes purports to show an increase of 200,000 homes from 4.0 million estimate for 2014/15. Both the Guardian and the Daily Mail have boldly reported these figures as an increase assuming they must be true.
https://www.theguardian.com/society/2017/sep/21/new-figures-reveal-scale-of-controversial-leasehold-homes
http://www.dailymail.co.uk/news/article-4908590/Scandal-leasehold-homes-WORSE-thought.html
The problem is the DCLG statisticians do not seem to have applied a basic reasonableness test to their work and have got things badly wrong.
Basic mistakes in the DCLG data
The "growth" from 4 million to 4.2 million
This is an illusion. The apparent increase is due only to the addition of 200,000 homes owned by the social sector. This category was excluded from the two previous DCLG counts. The previous counts were of "private" homes only. So, the apparent increase is simply because the criteria have been changed.
If the statisticians had wanted to include the social sector they should have gone back to the work we undertook in 2014. Had they done so they would have understood that the number of socially rented flats is nearly an order of magnitude larger than the random 200,000 flats they've added to their 2015/16 totals
The "decline" in flats
Comparison with the previous DCLG estimates shows that the number of flats appear to have gone down rather than up since 2013. In their latest report the number has gone down by 24,000 compared to their 2014/15 estimate, published in April 2017. Improbably, they also show a 24,000 decrease from their 2012/13 data to their 2014/15 data, i.e. a total decrease since 2012/13 of 48,000 flats!
Had the statisticians properly looked at our work in 2014 they would have understood we showed that there were 3,043,291 privately owned leasehold flats in 2011 so the DCLG 2014 report had somehow already lost 244,291 flats.
As anyone knows a very considerable number of flats has been built since 2011, and yet the DCLG statisticians claim the opposite is the case and have instead somehow lost almost 300,000 flats.
| | |
| --- | --- |
| LKP 2011 privately owned flats (published Feb 2014) | 3,043,291 |
| DCLG 2012/13 (Published August 2014) | 2,799,000 |
| DCLG 2014/15 (Published April 2017) | 2,775,000 |
| DCLG 2015/16 (Published September 2017) | 2,751,000 |
The "Increase" in houses
The first DCLG report for 2012/13 suggested just over a 1.25 mllion leasehold houses. This number then somehow dopped by 50,000 in 2014/15, and jumped by 100,000 for the year 2015/16.
| | |
| --- | --- |
| DCLG 2012/13 (Published August 2014) | 1,265,000 |
| DCLG 2014/15 (Published April 2017) | 1,201,000 |
| DCLG 2015/16 (Published September 2017) | 1,297,000 |
Anyone with the briefest acquaintance with the sector would know we could not have built this many leasehold houses.
Secretary of State Javid is aware of the number of leasehold houses built as he has quoted the LKP figures which appear here:
https://www.leaseholdknowledge.com/last-year-64-8bn-leasehold-properties-sold-13-7bn-new-build-developers-make-300-500-million-year-freehold-sales
The mystery "missing 15%"
In the April 2017 re 2014/15 the DCLG report makes a very odd assertion, implicit in the phrase: "85% of all private sector flats being leasehold dwellings."   To be clear they think that only 85% of these privately own flats are leasehold. They then fail to explain what form of tenure they think applies the other 15%?
They should know, there is no other form of tenure which this 15% of privately owned flats might have. They can't be commonhold as we know there are only about 150 homes under this tenure in the whole country.
Odder still is that there is no mention of this missing 15% in the 2015/16 report, but somehow the numbers have not changed.
Why does it matter?
It matters becasue until 2014 when LKP spent a lot of effort producing the first set of reliable data on the number of flats in England and Wales we had entirely inaccurate data. Our work persuaded the Minister to ask LKP to work with his statisticians to help them produce their first set of reliable figures at 4.1 million privately owned leasehold homes in England. This work was published in the DCLG report in August 2014.
As happens quite often LKP was edited out of the credits. Since then the statisticians have not spoken to us and have forgotten why they got the numbers so wrong in the first place. Now they've gone back to making a horrible mess.
The real numbers are somewhere in the LKP system, along with our analysis of the questions on leasehold houses. This will emerge when we eventually have the time to publish, alongside all the other things we do.
Prior to 2014 things had been even worse. We recently gave a presentation at the Open Data Institute to explain that all government legislation and policy up to 2014 had been produced on the basis of entirely false assumptions about the size of the sector.
When drafting both the 1993 and 2002 Acts Ministers were wrongly being advised that we had just 1 million leasehold homes.
Why on earth should government believe LKP when it has a whole statistics team? Maybe because we were the only ones who bothered to look to find out everone elses numbers had been wrong for decades – and at least we apply a basic reasonableness test?
Conclusion
LKP is not suggesting the government is fixing the figures to suggest a growth that does not exist. We suspect our analysis will suggest the numbers are higher still. The problem is the officials seem unable to get to the right numbers. Our very rough estimate at the moment is that we have 4.25 – 4.4 million leasehold homes in the private sector.
It should worry the Ministers even more that there are not 200,000 leasehold flats rented out by social housing landlords as suggested in this latest DCLG report. The real figures in our 2014 report show there were 1,781,822 socially rented flats in 2011.
We have to accept we did make a mistake in our 2014 report of calling all of these socially rented flats "leasehold" when they're not. That's not because these flats do not exist but because an unknown number have no title and are therefore not technically "leasehold".  They are a statistic that does not exist.
Finding the statistics
1) LKP report on the number of flats released Feb 2014
https://www.leaseholdknowledge.com/wp-content/uploads/2014/02/LKP-leasehold-market-evaluation-final.1.pdf
2) DCLG Statistics for 2012-13 releases August 2014
https://www.gov.uk/government/uploads/system/uploads/attachment_data/file/342628/Residential_Leasehold_dwellings_in_England.pdf
3) DCLG Statistics for 2014-15 released April 2017
https://www.gov.uk/government/statistics/esti
mating-the-number-of-leasehold-dwellings-in-england-2014-to-2015
4) DCLG Statistics for 2015-16 released September 2017
https://www.gov.uk/government/uploads/system/uploads/attachment_data/file/646152/Estimating_the_number_of_leasehold_dwellings_in_England__2015-16.pdf
In each DCLG release, the statisticians have claimed to use a "new methodology". That methodology is flawed.