By Harry Scoffin
Leaseholding and poor mental health was the lead story on the BBC's Victoria Derbyshire programme on Friday.
Hot on the heels of the government's announcement of a ban on leasehold houses and new legislation to set ground rent at zero for future flats, the current affairs show explored the problems faced by those already caught up in the property trap.
More than two-thirds of people who have encountered issues with their leasehold feel anxious about their future, a survey by the National Leasehold Campaign (NLC) suggests. For some, disputes have led to suicidal thoughts. "It absolutely drains you. It makes you feel a failure, that you can't do anything," 'Lisa' – not her real name – told the BBC's Victoria Derbyshire programme.
The nearly 20-minute feature was based on a National Leasehold Campaign (NLC) mental health survey of 1,157 leasehold tenants.
SOS Suicide of Silence, the mental wellbeing charity who analysed the results, found that:
Nearly one in five leaseholders (17%) have had suicidal thoughts because of their leasehold problems. One per cent say the issue makes them feel suicidal daily, four per cent are frequently suicidal and 12 per cent occasionally
Nearly three-quarters of leaseholders (72%) are very anxious and worried about their future with nine out of 10 (90%) saying they think about their leasehold problems every day. Only two per cent of leaseholders are not anxious or worried with one in five (20%) saying they are slightly anxious and six per cent of respondents who try not to think about it
Unsurprisingly, 96 per cent say they feel uncertain about their future because of their leasehold with nearly half (49%) thinking about it every day, over a quarter (28%) frequently and 19% sometimes
Almost all (92%) have no faith in the legal system to protect them, whilst seven per cent are optimistic that they will be protected
Fronted by journalist Colleen Harris, the Victoria Derbyshire report opened with the observation that "where we live can influence our health and wellbeing … in recent years a groundswell of complaints has emerged that some developers and freeholders are imposing doubling ground rents, high or unclear service charges and one-off bills."
Ms Harris gave a fluent explanation of leasehold:
"Leasehold is the main form of tenure for flats in England and Wales, that means the freeholder owns the land and everything on it, and owning a lease allows you to live in a property for a set period of time with many restrictions … A leasehold owner is in a tenant-landlord relationship with the freeholder."
One interviewed leaseholder said he has been suffering from anxiety "and I've never experienced anxiety before – but it's all linked to the property."
"The thing is, I had to save for that deposit like anyone buying a freehold property would. I pay my mortgage exactly the same as somebody who would have a freehold, but I am treated like a rental tenant," he added.
ARMA's Nigel Glen: service charges and major works do have to be paid for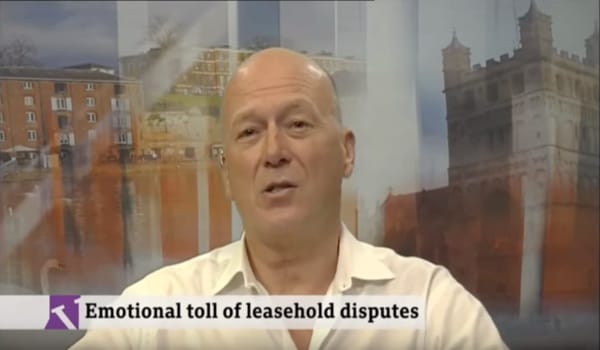 The film was followed by a discussion between Nigel Glen, of the Association of Residential Managing Agents, and NLC founder Katie Kendrick.
Caroline Holmes, a former shared ownership lessee who was made homeless because of uncapped and surging bills, joined via video link from Israel.
Presenter Joanna Gosling challenged Ms Kendrick on whether the problems with leasehold were as widespread as she suggests since "there are millions of people living in leasehold properties," to which the leasehold campaigner responded:
"Well, you say it works fine. But people are yet to have that 'penny drop' moment and it may not be until that unknown bill comes through the letter box or that they want to sell, or need to sell, their property that they realise that actually it [the leasehold scandal] does impact on them.

"And this is what we are trying to do: to raise awareness of the bigger leasehold issues that people don't actually realise impacts on them, and will impact on their futures."
Mr Glen refused to be drawn on the mental health implications of leaseholding and instead spoke about the necessity of paying service charges and other bills related to building upkeep.
The ARMA head called for government to override deficient leases by making it a statutory requirement for all residential leasehold blocks to have a reserve fund "set by an independent third party", such as a surveyor.
He also claimed that consumer homebuyers often move into their leasehold flat completely "unaware that they have to pay these charges".
Speaking as a former managing agent, Mr Glen claimed that it was not uncommon for leaseholders to resist service charge demands.
Ms Kendrick responded by drawing attention to the fact that the vast majority of leaseholders do not have a relationship with the managing agent because it works for the third-party freehold landlord. Leaseholders are, therefore, not the client.
No one is arguing against major works, she said, but the lack of transparency around these one-off bills. If leaseholders had control over what they pay, they would have more confidence in the service charges regime.