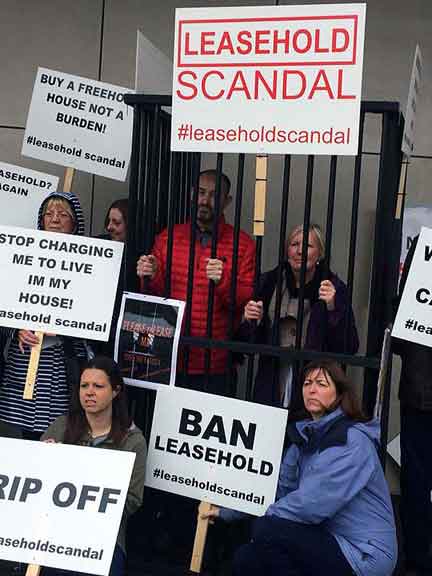 Members of the National Leasehold Campaign Facebook group posed for photographs behind the iron bars of a prison cell to warn off would-be buyers of leasehold homes at the First Time Buyers show in Manchester on Saturday October 7.
The demonstration aimed to increase awareness of the pitfalls of leasehold tenure to first time buyers.
Thousands of families have become PRISONERS in their own homes after being mis-sold leasehold properties with onerous ground rents and permission fees. Many of these homes were bought through the government sanctioned Help To Buy Scheme, which has fuelled housebuilders profits and led to massive remuneration packages for CEOs.
Taxpayers are supposedly helping a new generation of homeowners. In fact, they are creating a tradable investment asset – the freehold – which is invariably purchased by anonymous investors who hide their beneficial ownership behind nominee directors and are often based offshore.
Is this really a good use of public funds?
Katie Kendrick of the National Leasehold Campaign said:
"Our demonstration aims to show the dawn of the new reality facing thousands of families in England and Wales, and to highlight the terrible consequences of the recent leasehold abuses: in particular how young families and first-time buyers have become trapped as prisoners in their own homes by oppressive leasehold contracts designed by greedy developers and freeholders. The Government recently announced an additional £10b for Help to Buy.

"We want to make sure that this money is not used to fund more leasehold homes. However, this is not only about ground rents – we need to alert unwary first-time buyers about leasehold in general and recent abuses that have blighted thousands of ordinary families, many who bought using the government's Help To Buy Scheme.

"There are millions of victims, most of whom don't even realise they are part of this scandal yet.

"People buy a home thinking they own it, yet in the eyes of the law they are only a tenant.

"Leasehold tenure needs to be assigned to the history books and abolished once and for all – for both flats and houses."
Major developers including Taylor Wimpey, Bellway, Redrow and Persimmon have been selling houses as leasehold, and selling the freeholds on to third party investment companies without the homeowner's knowledge, as an additional income stream.
In many cases, those homeowners were promised they could buy their freehold for a nominal sum after two years, only to find that they had already been sold on with the new freeholders demanding extortionate amounts that can exceed £30,000 to sell the freehold back to homeowners.
In anticipation of the recent Government consultation that is expected to ban the sale of leasehold new build homes, developers are already moving to advertising properties as freehold, but keeping many of the covenants and permission fees typically associated with leasehold properties, something the National Leasehold Campaign is calling "fleecehold".
Campaigners handed our leaflets to First Time Buyers.
Taylor Wimpey has recently set aside £130m to deal with the problem, with one freeholder offering to change some doubling ground rents to RPI (retail price index). But sources indicate this is simply a PR exercise to keep the status quo.
Taylor Wimpey leaseholders feeling pushed into a corner.
Jo Darbyshire, of the National Leasehold Campaign, states:
"Freeholders and developers have gone one step too far – their increasing greed has derailed the gravy train and they want it back on track by tossing some crumbs to leaseholders.

"Ground rents are only part of the problem – management fees, permission fees, unfair leasehold tribunal system and a range of other charges.

"The system is rotten to the core.

"I hope that the outcome of the Government's consultation on tackling unfair practices in the leasehold market will bring a ban on the sale of leasehold and "fleecehold" new homes.

"I want to see a full review of the mis-selling of leasehold homes, similar to those that we've seen for pensions, PPI and endowment mortgage mis-selling and full redress paid to those of us that have been caught up in this nightmare."
Campaigners came together in Manchester to warn First Time Buyers.
Redrow, one of the developers at the heart of the scandal, recently posted record profits of £430m – despite a downturn in the housing economy – while Persimmon boss Jeff Fairburn was recently handed millions of shares worth £112m as a bonus.
An estimated 4.2 million people are leaseholders in England and Wales. Scotland banned leasehold in 2000 with the Abolition of Feudal Tenure Act.
Please sign our petition to abolish leasehold and introduce strict regulation for residential managing agents:
Theresa May MP: ABOLISH LEASEHOLD & STRICT REGULATION FOR RESIDENTIAL MANAGING AGENTS BE INTRODUCED