One of the country's leading housing repair companies is at centre of fraud, bribery and corruption allegations that have led to higher bills for local authority leasehold owners.
The accusation have been levelled at the Mears Group by Alan Strong, a former regional manager, at an employment tribunal, and have been reported in the Independent.
Strong claims executives were secretly overpaid by corrupt individuals working for their clients, which include a number of councils and housing associations across southern England.
The whistleblower says he was victimised after raising concerns and is suing the company for constructive dismissal.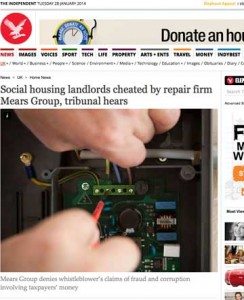 Mr Strong claims he was first alerted to the alleged malpractice when he discovered Morrison Facilities Services, which the Mears Group took over in 2012, "overclaiming and overcharging" on its contract with Southwark Borough Council in south London.
The plight of Southwark leasehold owners, including Farieda Chandoo who faces a personal bill of £100,000, havce been reported on LKP.
 "MFS regularly made commercial claim for payment for work they had either not carried out …  or not completed the work … or not actually done any work at all," he said in a witness statement.
"The overclaiming came in many guises …. These same actions of overclaiming were occurring on many other contracts and clients. I would estimate that the overclaiming covered at least 100,000 to 160,000 properties."
MFS clients mentioned in Strong's witness statement include the London councils of Southwark, Kensington and Chelsea, Lambeth, Havering and Hackney, and major housing associations including Gateway, One Housing Group and Paragon Community Housing Group.
The Mears Group denies Strong's allegations and described hims as "a disgruntled former employee" and this is a case "where mud flinging is designed to pressurise businesses into settling spurious claims".