The former Labour frontbencher Maria Eagle waded into the leasehold house scandal on Tuesday demanding justice for those stuck "in limbo" with unsellable homes.
Addressing new Communities Secretary James Brokenshire, the Garston and Halewood MP said:
"The Secretary of State talks about fairness. What will he do to ensure fairness for those who buy new houses? Sixty-nine per cent. of new houses in the north-west were sold as leaseholds, purely and simply so that home buyers can be financially exploited into the future. What will the right hon. Gentleman do to ensure fairness for them?"
Leasehold houses to be banned and future ground rents set to zero, announces Sajid Javid
She added:
"I would like to spend the few minutes available to me in this debate to talk about the financial abuse that arises from the growing practice of selling newly built houses as leaseholds.
"Over 1 million houses in England and Wales are leasehold properties, and 15% of new build houses in England are built and sold as leaseholds.
"In the north-east [sic] of England, the latest figures—from 2016—show that 69% of newly built houses are sold as leasehold, many of them in my constituency. That is a much higher figure than in any other area or region in England, so the issues that arise are particularly prevalent in the north-west. Many constituents have come to talk to me about problems that have arisen from buying their dream home as a leasehold and suddenly finding out that it is not what they thought it was going to be.
"I want to talk about two estates in my constituency—Gateacre Park and Cressington Heath. In Gateacre Park, 40 properties sold as leaseholds were newly built houses on 250-year leases. The roads in the development are to be adopted by the local authority at the end of the work, so there are no maintenance charges. In Cressington Heath, homes have been sold on 999-year leases. It is a private estate, and the roads are not to be adopted when it is finished, so people will be expected to pay ongoing maintenance charges into the far future.
"A number of constituents have come to me to complain that not only were they not aware of the full extent of the issues involved in the meaning of leasehold property or of the ongoing financial obligations, but that many of them, having been promised that they would have the option to buy their leaseholds, have discovered that, even on a long lease such as one of 250 years, they will be charged up to 20 times the ground rent. A figure of £5,600 has been quoted to people on the Gateacre Park estate, when it should not in reality be any more than about £2,000. On the Cressington Heath estate, people have been given different figures covering anything up to £17,500—£12,500, plus of course the freeholder's legal fees—all to escape the escalating ground rents that are being charged.
"I therefore welcome the fact that the Government have decided they will do something about this issue. They will prevent the sale of new houses as leaseholds—that is good and welcome, although it has not of course happened yet, and we await the legislation—and make the ground rent a peppercorn rent.
"However, my concern is that many existing leaseholders are already being exploited, and how far will the Government's proposals help them? They are stuck in limbo: they are unable to sell their property except at a discount, because there is increasing awareness of the problems of buying leasehold houses, which is affecting the price of properties.
"I know of constituents who have lost sales as a consequence of their revealing that their houses are in fact leasehold properties.
"There is another issue on which I would like a response from the Government. I do not believe that their proposals deal with the ongoing issue of freeholders increasingly selling the freehold—at inflated prices, but none the less agreeing to sell the freehold—but importing many of the restrictive covenants into the transfer document.
"I am not at all sure that it is lawful under the leasehold reform legislation. Some technical legal points have not been litigated, so I am not sure that that is lawful.
"I welcome that fact, but what tends to happen is that companies add an extra £5,600 or so on to the initial purchase price and then put restrictive covenants into the transfer document.
"I have constituents who have been told that into the far future, even when they are freeholders, they will have to pay to get permission to change their mortgage provider, paint their door a different colour or make any alteration to their garden or property. That is not a proper freehold; it is finding a way to make sure that restrictive covenants can carry on, be sold on and then used financially to exploit people who have such restrictions in their deeds—whether in a lease or in a transfer document when the freehold is transferred.
"I want the Government to go further than they have so far said they will go and consider banning some of these ridiculous restrictive covenants from being put into transfer documents as well as into leases. If they were to do that, I might be able to welcome their package of measures rather more than I have been able to so far."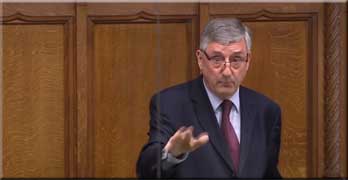 Jim Fitzpatrick, Labour MP for Poplar and Limehouse, joint patron of LKP and co-chair of the APPG on leasehold, said:
"On leasehold, I accept a lot of the points that … (Maria Eagle) … made about gaps in leasehold reform, but I give the Government great credit for their progress on leasehold reform: more staff in the section in the Ministry, more senior positions, positive statements from the Prime Minister, Secretaries of State and Ministers and others, clear promises on ground rents, the consultation on commonhold, the Law Commission reporting, examination of property management companies and their failures, representation of residents, first-tier tribunal working and more.
"A Conservative Government in 1993 tried to reform leasehold and made some progress but failed. Labour tried to do it in 2002 and failed. This time the Government must get it right, and we on the all-party group on leasehold and commonhold reform will do everything we can to help.