---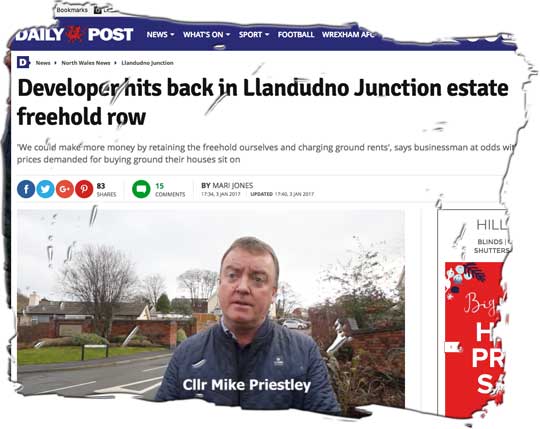 Leasehold game-playing has spectacularly backfired for Beech Developments at its Gwel y Mynydd site in Llandudno Junction.
The small-scale housebuilder decided to build the houses leasehold, which cost around £250,000, with escalating ground rents: they start at £100 and double after five years and then rise with RPI annually.
Purchasers were told by the sales team that the cost of the freeholds would be £1,000.
But when 66 purchasers registered their interest to buy the freeholds in early December they were told the price of the freeholders would be £3,500 and that they had until December 31 to confirm.
The deadline for completing the deal, set by Beech Developments, was February 10, otherwise the freeholds would be sold to the Blackthorne Corporation Limited (who active directors are William John Coplin and Mark Hawthornthwaite).
This high-handedness caused outrage and set off articles in the local North Wales Daily Post.
Matthew Gilmartin, MD of Beech Developments, insists his company has been "clear and consistent throughout".
"We have always been completely clear with all homebuyers at Gwel Y Mynydd that their homes are purchased as leasehold properties, not freehold," Mr Gilmartin told the Daily Post.
"We have always stated the cost of purchasing the freehold on properties would be subject to market value at that time."
He then added:
"In reality we would make more money by retaining the freehold ourselves and collecting ground rent for the remaining lease term."
What is unresolved is why Beech Developments would not sell the freeholds at the same time as the leasehold interest.
Mr Gilmartin is quoted saying: "At the time of purchase the option to buy the freehold was not available to residents." But he has not explained why this was the case.
Beech Developments has now told its not entirely happy customers that they would have until the end of January to give notice of interest and to the end of May to complete.
Louie Burns, of Leasehold Solutions, advised the residents to act as a group to buy their freeholds.
"The benefits will be an economy of scale. You will be able to get your legal and valuation fees reduced.
"More importantly it means you have much more bargaining power.
"Freeholders often use the threat of going to tribunal as a weapon as most leaseholders would want to avoid the extra legal fees and so they are able to bully you into paying more.
"If you are part of a group, the costs are split between you all so it shifts this power to the leaseholders."
LKP has asked for Mr Gilmartin to explain Beech Developments conduct in this matter.
Llandudno Junction councillor Mike Priestley said:
"If Beech Homes promised one price, and then residents find it has been inflated, then it doesn't seem right.

"This should serve as a warning to people when they buy a new house, to check the small print."