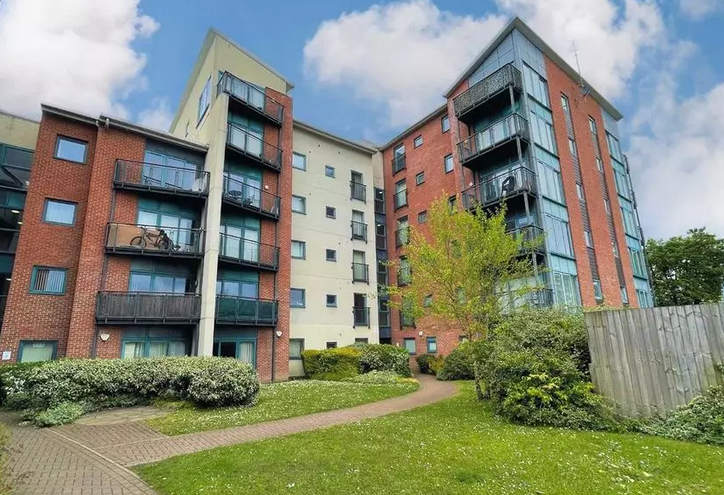 Leaseholders face demands for £5,000 each

Why is it ALWAYS the leaseholder controlled sites that come off worse with insurers?

It is almost as though there were a cosy cartel at work between monetising freehold owners and the insurers

And can we please have the delayed leasehold insurance investigation by the Financial Conduct Authority published now?
Leaseholders at Compass Point, in Wythenshawe, Greater Manchester, have 21 days to pay insurance bills of £5,000 – as the cost of the annual insurance for the block has risen more than 20-fold from £12,000 to £250,000.
It is an open question what will happen if the block remains uninsured, although LKP is aware of several previous occasions when this has happened, often for some months.
According to Inside Housing's Pete Apps, who broke the story yesterday, the building requires work to fit missing fire breaks in a timber-frame structure and remove timber balconies – both works exempt from government funding aid.
The building's original insurer, Allianz, declined to offer a new policy in September 2021 after an EWS survey which found that works needed to be undertaken.
Clear Building Management found another insurer, Touchstone Underwriting, but premiums rose from £12,000 to more than £150,000, and with only 40% of the rebuild value covered by the insurance.
This year the cost is £250,000 for full rebuild cover, but this pushes the premium up to £250,000 – £5,000 each household. The insurer has not offered any option for paying in instalments and demanded the full fee upfront.
"The unaffordability of building insurance premiums for leaseholders is the silent issue punishing leaseholders across the UK," said Ian Hollis, of Clear Building Management, which is an LKP accredited managing agent in Manchester.
"Clear Building Management hasn't taken a fee for more than 12-months, in the knowledge that the building's cashflow is tight."
Mr Hollis and his team is seeking to raise awareness of the crippling costs of building insurance premiums for leaseholders and suggesting a Fire-RE reinsurance vehicle similar to support from insurers for protection from terrorism – "PoolRE" – and flooding – FloodRE.
CBM believes that this 'FireRE' scheme needs to be urgently introduced, and must have the Treasury as ultimate underwriter so that mass-market insurers can re-enter the market and get affordable re-insurance for the fire risks.
In response to questions from Inside Housing, CBM said the building "may become uninhabitable" if it is not insured, but added that "we are doing everything we can to identify a way to get the premium funded, so that this will not be an issue".
Back in January then Housing Secretary Michael Gove told the Financial Conduct Authority to investigate the leasehold insurance market, which was "failing" leaseholders.
The report is already late.
"This issue is happening now, in buildings everywhere, that like Compass Point, are suffering excruciating insurance premiums with onerous terms, and we are committed to doing whatever we can to raise awareness of the issue and get leaseholders the financial support they need," said Hollis.
Giles Grover, a spokesperson for the End Our Cladding Scandal campaign, said: "The government has allowed the insurance industry to profit from the building safety crisis for too long in the vague hope that the broken market will correct itself.
"Rather than stepping in directly, they have been trying to gently nudge the insurers to produce a solution. This ongoing reliance on industry to do the right thing has failed miserably and [new housing secretary] Simon Clarke must recognise this and act swiftly to ensure more is done to clamp down on this immoral behaviour."
Leasehold Knowledge Partnership comments:

"LKP is aghast at the position of the 52 leaseholders at Compass Point in Wythenshawe, who face a hike in insurance costs that will see each leaseholder having to pay £5,000 a year.

"LKP can only offer sympathy to those involved and Clear Building Management, which is dealing with this.

"Since the Grenfell Tragedy in June 2017 we have seen government fumbling about with the building safety crisis, setting off panic while simultaneously procrastinating over providing effective action.

"The hike in insurance costs – leaving aside commercial opportunism – is a direct result of this.

"But why does it repeatedly hit the leaseholder-controlled blocks hardest?

"It is almost as though there as a cosy cartel at work between insurers and freehold owners, and leaseholder controlled blocks are not a member.

"Leaseholders look forward to the now delayed results of the investigation into leasehold insurance by the Financial Conduct Authority that was ordered by then Housing Secretary Michael Gove, who took a markedly robust approach to the building safety scandal, imposing a £4 billion levy on housebuilders as part of a sector-wide failing.

"It must be hoped that the FCA discovers its backbone in dealing with the scandalous state of affairs in leasehold insurance.

"Repeatedly, it is the leaseholder controlled blocks that come off worse with insurers."