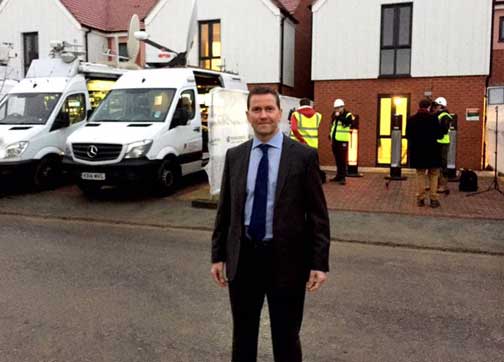 By Sebastian O'Kelly
Persimmon share prices have surged 30 per cent to £457.4 million in the first half of the year – boosted by rip-off leasehold houses and the taxpayer-funded Help To Buy scheme.
It means Jeff Fairburn, the CEO of the company, is in line for an absurd £125 million bonus.
Unlike Tony Pidgley, founder of the Berkeley Group, who has been criticised in today's Daily Mail for a £29.2 million bonus, Mr Fairburn did not found Persimmon. He is simply an employee who has surpassed sales targets – thanks in large measure to the massive public subsidy to housebuilders in the form of the Help To Buy scheme.
Developer Persimmon is set to hand managers a £785m windfall Chief executive Jeff Fairburn is in line for £125m, which has sparked fury Rival Berkeley has also handed executives a generous £92m in bonuses Booming sales of new-build homes pushed Persimmon shares to record highs last night – setting the scene for a £785 million bonanza for bosses.
It is astonishing that Persimmon institutional shareholders were prepared to sanction such a ludicrous bonus deal.
As a trustee of the Leasehold Knowledge Partnership, I have acknowledged, and do so again, that I am a shareholder of Persimmon (as of this morning, at least).
My shareholding has nearly tripled in value, but it did not do so through brilliant entrepreneurism from Mr Fairburn.
He has not invented a wealth creating high tech business; he has not contributed to the wealth of the UK plc.
He has achieved very high sales of often flawed products with wealth eroding cleverness built into them.
Working the angles of leasehold – and spreading leasehold houses wherever he can – Mr Fairburn has disadvantaged Persimmon customers and done this company no long-term favours.
It is particularly a source of dismay that, in fact, Persimmon's achievement has come about through taxpayers' help.
All over the country, Persimmon is now hitting reverse gear over leasehold houses.
Suddenly, they are being sold freehold. An example is The Village at Aveley in Essex. There are countless others.
If it was right to sell this form of tenure for houses, why is Persimmon so shy about the practice and is now abandoning it?
I fully echo the sentiments of Stefan Stern, of the High Pay Centre, who is quoted in the Daily Mail today saying that Fairburn's pay award was "difficult to reconcile with a housing market that is failing the country".
On the other hand, I do not share criticism of Tony Pidgley's £29.2 million.
He founded the company from nothing and has built it into the smartest large-scale housebuilder, largely concentrating on prime London.
God knows what he needs another £29 million for. I would suggest rather than funding another team of polo ponies, he purchase instead a sensible cob and potters around the fields of his Windsor estate.
That would do him immense good and not be too taxing for a 70-year-old. But a little horse of that type can be had for less than £5,000.
Mr Pidgley and the Berkeley Group have certainly played the opportunities of the leasehold game.
They will strongly oppose LKP's efforts in the leasehold consultation ordered by Sajid Javid, the Communities Secretary.
A full 8 per cent of Berkeley Group's revenues come from freehold sales – the highest proportion of the housebuilders because it almost solely builds apartments.
But it seems to have learned its lessons from past errors.
If you wish to see Mr Pidgley come over pale and a little faint, there are two words that you can use: "Vincent Tchenguiz".
Sales of the freeholds of Berkeley's prime Thames riverside blocks to that imaginative entrepreneur in the leasehold sector were a disaster in reputational terms for the company.
Huge sums – £1 million in the case of St Georges Wharf, in Vauxhall – were paid out to settle disputes.
Berkeley is a bit more choosy who it sells its freeholds to these days.