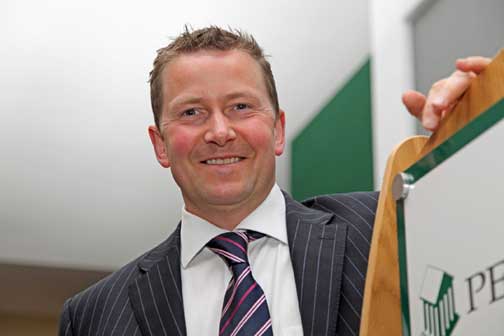 Owners of leasehold properties have demanded that Jeffrey Fairburn, the CEO of Persimmon homes who is in line for a an absurd £130 million bonus, have told him to use it instead to sort out the mess his company has created.
Katie Kendrick, founder of the National Leasehold Campaign, said the Persimmon bonus scheme, which could yield £800 million for its top team, was an 'insult to the millions of leaseholders caught up in the leasehold scandal that developers have created'.
Persimmon homeowners 'trapped' in controversial leasehold deals have hit out at the firm's chief executive who is in line for a £130 million bonus while they fork out thousands of pounds in ground rents and fees. Some called on Jeff Fairburn to donate his bonus to lease-holders affected by the 'feudal' practice.
She urged Fairburn to donate his bonus to leaseholders 'to enable them to own the land their homes sit on'.
Chris Cooke, who bought a Persimmon home in Yeovil for £272,000, faces paying £4,000 – double what he was initially quoted – to buy the freehold. He said: 'They are using their customers' lack of experience to enable them to continue extracting money long after they thought they had purchased their dream home.'
Meanwhile, the Sunday Telegraph says a coalition of some of the City's ­biggest investors, including a handful of Persimmon's top 10 shareholders, is understood to have warned the company that the record-breaking payout is "unsustainable".
Politicians have already pointed to the way Mr Fairburn has benefited from the Government's Help to Buy scheme. The subsidies have boosted demand for new-build homes and lifted the Persimmon share price, inflating Mr Fairburn's bonus. The shares have nearly trebled since George Osborne launched Help to Buy in 2013.
One told The Sunday Telegraph that it would want to see Mr Fairburn give up at least 90pc of his pay in order to keep his job, "and even that would be very generous".
"At the end of the day, it's simply far too much money for putting up a few timber-framed houses", the investor said. Anger over Persimmon's executive pay scheme has already claimed the heads of Nicholas Wrigley, the chairman, and Jonathan Davie, the ­remuneration committee chairman.
Mr Fairburn has already collected £45 million.
The bulk of this money comes from the soaring share price of Persimmon owing to the taxpayer-funded Help To Buy scheme.
This is supposed to help first-times come off short term tenancies and experience the security of home ownership.
In fact, they were dobbed into leasehold houses and flats with high ground rents, and have found that leasehold properties simply means "long tenancy".
Politicians are furious that the government has been taken for such a ride by the nation's venal, cheating housebuilders.
Trust in them has evaporated, which is why Communities Secretary Sajid Javid and Gavin Barwell, the chief of staff of Number 10, are determined to bring them to heal over leasehold houses and the evolved scam of ground rents.
Persimmon shareholders tell boss: give up chunk of bonus or step down