Two MPs closely involved with LKP / Campaign against retirement leasehold exploitation, Jim Fitzpatrick (Labour, Limehouse and Poplar) and Sir Peter Bottomley (Worthing West, Conservative) feature in an article on London leasehold issues published by Israeli magazine "ALondon".
Unfortunately, LKP's Hebrew scholarship is not up to the task of reading the article.
But with untranslated and untransliterated words such as "freehold", "Leasehold Valuation Tribunal", "Yianis Group" … one can gather the gist.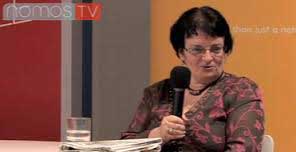 The article was written by Mira Bar-Hillel (left), the property correspondent of the London Evening Standard, who is a journalist all leaseholders have cause to be grateful to.
In the 1990s, she campaigned over leasehold issues and injustices which led to the 2002 Act.
Mira has long been an exception to most UK property journalists, who write advertising drivel to help estate agents sell houses.
Instead, she writes proper news articles and has a passionate commitment to helping those being pushed around by the powerful. A proper journalist, in short.
She and Sebastian O'Kelly have collaborated on a number of stories.
Many thanks, Mira, from LKP or:
הרבה הרבה תודה, יקירתי