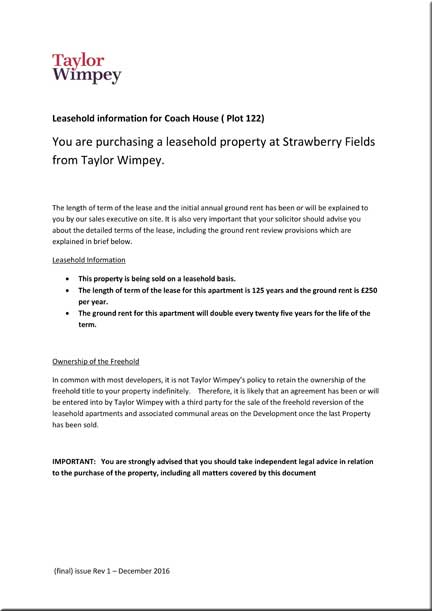 A leaked Taylor Wimpey document says that it is still selling flats with doubling ground rents but it is "an oversight" and "incorrect", according to CEO Pete Redfern.
Translation: This is an unaccountable blunder contradicting everything Taylor Wimpey has told MPs and press about its ground rent policy.
The document, dated December 2016, clearly states that flats for sale with 125 year leases at Strawberry Fields, in Southampton, have ground rents of £250 a year "which double every 25 years for the life of the term".
Sebastian O'Kelly, of LKP, asked Mr Redfern in correspondence copied to Gavin Barwell, the housing minister, and LKP patron MPs Sir Peter Bottomley and Jim Fitzpatrick:
"We were informed that doubling ground rents every ten years only occurred at sites built between 2007 to 2011 … You have informed us that thereafter ground rents for both Taylor Wimpey flats and houses rose with increments linked to RPI.
"Now I see a Taylor Wimpey house for sale at your "Strawberry Fields", Locks Heath site in Southampton with doubling ground rent, and it is available to be purchased with taxpayers' assistance through the Help To Buy scheme.
https://www.taylorwimpey.co.uk/find-your-home/england/hampshire/southampton/strawberry-fields
"How can this possibly be the case?
"We were not anticipating seeing any Taylor Wimpey properties for sale with doubling ground rents."
Mr Redfern replied today: "Thank you for bringing to our attention the leasehold information sheet for Plot 122 on the Strawberry Fields development.
"This document was incorrect and has been amended – no customers will be affected by this oversight.
"All of the Taylor Wimpey leasehold properties on this development, including Plot 122, have RPI leases where the ground rent is reviewed every ten years for the life of the term."
Comment
Well, we are happy to accept Taylor Wimpey's gratitude for "bringing this to our attention". Anything to oblige a friend etc …
Except Taylor Wimpey is not a friend. Or, rather, not to its customers, who it has landed with impossible ground rents that have destroyed the value of their purchases.
The desperation of their predicament is expressed by Sean Greenwood, in a public letter to Mr Redfern asking to return his purchased TW flat, because no one else is going to buy it. (Published below)
Meanwhile, Mr Redfern continues to stall over handing over the full list of properties where doubling ground rents apply.
There is no reason not to do so, and the excuse of personal data protection for the buyers – no one has asked for their identity, and this is not needed – is too flimsy.
Is Taylor Wimpey really hoping that some of its cheated former customers won't have noticed this scandal, and therefore it can save on paying out compo?
Taylor Wimpey cannot really be that stupid, can it?
Another alarming possibility presents itself: perhaps Taylor Wimpey does not actually know with accuracy the number of properties sold with doubling ground rents? Or where they are.
This company shows signs of being shambolic, with head office not having a clue what its regions are up to.
Mr Redfern adds in his letter: "We also do not think it is appropriate to disclose specific information around sites or post codes linked to doubling ground rents, to third parties."
He is meeting Sir Peter Bottomley and Jim Fitzpatrick tomorrow.
He may be in for a rough time.
Sean Greenwood's letter to Pete Redfern
Dear Mr Redfern
I am disappointed to have not received a reply to my numerous emails and no answers to the questions I have posed on your view of the current leasehold scandal. I am beginning to wonder if as part of your 'review' you have staff employed full time to delete customer emails to you so that you can continue to deny the scale of the problem.
My wife would like to return her apartment for a full refund please. She has not received what she paid for so she would like her money back. If she had ordered an apple from a supermarket and an orange had been delivered, she would have every right to return the orange for a full refund. Imagine for a minute that the apple cost 25p and all the multiple consumer rights that protect that purchase. My wife's apartment was 403,980 times more expensive than that apple and it appears that she has no consumer rights whatsoever regarding your misrepresentation of the property.
My wife bought a property that was advertised as an affordable first step on the property ladder, what she received was a property on a ladder that only has a single rung as she will never be able to sell the apartment and move on. My wife bought a property with a £250pa ground rent, what she received was a property with a doubling ground rent that will eventually rise to £8,000 a year. My wife bought an apartment that had a freehold owned by Taylor Wimpey that should have been offered on a right of first refusal had you wanted to sell it, what she received was a property that had its freehold secretively sold without her knowledge to a private company. My wife bought an property with a freehold that you valued at £4,000, what she received was a property with a freehold that is now valued at £20k-£40K. My wife bought a property that you valued at £101,000, what she received is a property that will eventually cost her £778,500 but is ultimately valued by mortgage companies at £0.
As you can see, what my wife bought and what my wife received are two very different things, very much like the apple and orange story. Therefore, like that story, she would like a full refund for the item that was not as it should have been, her apartment.
I understand that with a mortgage secured on the property it is not as simple as refunding her money but you buying the property for its full market value is the equivalent. You, after all, would be buying a property knowing the full implications of it being leasehold and the terms of that lease. The same terms that you keep assuring us do not make it unsaleable or have a negative impact on its value. I am even willing to offer you £100 towards your solicitors fees and you don't even have to use our recommended solicitor!!!
After you purchase my wife's property, I would love the irony of you having to decide whether to spend £20K-£40K to buy the freehold to make it saleable or drop the price by that much to sell to an investor. Or equally the irony of you worrying about the impending ground rent increase and if you would be able to afford it as well as the essential lease extension costs. But ultimately I would love the irony of you considering contacting LKP and your MP to complain about the situation you are in; or joining the national campaign to share your story about your unsaleable or vastly reduced value property, all the worries that we currently face.
Please consider that the large majority of people who bought from you on a leasehold basis would now also like to return their properties. You have created a toxic asset with the leasehold contracts that your legal department wrote. The toxic asset is the property so your 'review' should cover all leasehold properties as all these homeowners (original buyers or resales) have a property devalued directly by your decision to create an income stream via ground rents and sell the freeholds to private companies rather than the homeowners themselves. As I have stated in my previous emails, had leasehold and its implications been fully explained to buyers, you would never ever have sold a single leasehold property throughout your company's history. Please remember that making financial gains from false representation and failure disclose all necessary information may go way beyond mis-selling and boarder on fraud.
I note with interest that you have now produced a 'leasehold information' leaflet available at your developments (Willow Lake, Millbrook Park and on your website for Sapphire Fields to name a few). The leaflet is dated December 2016. This, along with your decision to not sell leasehold houses from 1st January 2017 is a clear admission that you have done things wrongly up until that date. If you felt that people buying leasehold properties after December 2016 require a leaflet to explain the leasehold information, ownership of the freehold and advice on getting INDEPENDENT legal advice, that is a direct admission that people who bought before that date were not given that very important information. You now make this information available at point of interest. You obviously feel that this transparency is now necessary, transparency that we and thousands of other buyers were not afforded at point of interest, point of sale or until we discovered the murky world of leasehold for ourselves at a later date.
You know full well that you have done wrong in the way you have conduct your business with regard to leaseholds. You know that you will end up having to put this situation right whether that be voluntarily or by us taking out a huge, collective legal action against you. I urge you not to put your ex-customers through more stress and heartache. We fell in love with our homes and the whole process of discovering the depths of this leasehold scandal has made us question the biggest, most expensive purchase of our lives. You obviously see our homes as cold, hard income and profit, we have lots of emotions attached to them and I hope you consider this in the final decision of your 'review'. As stated in my previous emails, you are in a unique position to change 'standard industry practice' for the better, use this power wisely. As you are now seeing, your actions have consequences, I hope you take the right course of action.
Regards and as ever, I await a reply but will not hold my breath.
Sean Greenwood