And two-thirds of leaseholders don't feel they get a good service from their managing agent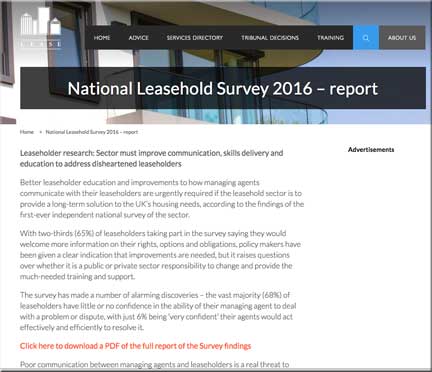 These are two of the results of the survey of leaseholders – and RMC directors –by the Leasehold Advisory Service.
According to the LEASE website, the leasehold survey "is a tool designed to support the sector and not a commercial or business development initiative".
In total, 1,244 leaseholders took part, including 200 RMC directors.
LEASE says:
"The survey has made a number of alarming discoveries – the vast majority (68%) of leaseholders have little or no confidence in the ability of their managing agent to deal with a problem or dispute, with just 6% being 'very confident' their agents would act effectively and efficiently to resolve it.

"Poor communication between managing agents and leaseholders is a real threat to enjoyment of a leasehold property, according to the survey, a problem exacerbated when the lack of clarity and information creates mistrust.

"Furthermore, this is leading to leaseholders feeling they have very little opportunity to be involved in the management of the property, and that they want more democratic decision-making with a greater say on how their service charge is spent in particular."
Of crucial importance were the views of RMC directors.
The LEASE chairman Roger Southam has stated that after manning the advice lines he was struck by the number of complaints from RMCs, RTMs and where the freehold was owned by the leaseholders.
He wrote in News on the Block in April:
"… from the phone sessions I discovered that a number of the callers were leaseholders who owned their freeholds. This was interesting because I had long thought that owning the freehold as a leaseholder was the panacea that would give the controls and access that is the holy grail."
The Competition and Markets Authority has already established that RMC / RTM blocks are more harmonious than freeholder-imposed management.
The leasehold survey found:
"RMC directors are generally happier with their leasehold properties than 'ordinary' leaseholders due to a greater sense of control over the property's management."
The key findings of the leasehold survey were:
Just 6% of leaseholders are very confident the managing agent could resolve issues.
68% of leaseholders have little or no confidence that their managing agent could resolve issues efficiently and effectively.
51% of leaseholders see a change in managing agent would improve matters and benefit the block.
1 in 5 leaseholders are unaware they could replace a poorly performing managing agent.
55% of leaseholders consider changing managing agents would be a difficult process.
48% of leaseholders believe a lack of knowledge is a real barrier to changing managing agents.
40% of leaseholders strongly disagree that service charge is value for money.
62% of leaseholders say the service hasn't improved in the last two years.
55% of leaseholders know where to go for information, but 32% definitely do not.
52% of leaseholders are confident they know their rights and responsibilities.
The leasehold survey also identified that "one of the biggest challenges facing the sector is finding leaseholders willing to take-on the role of RMC director". There is "a clear polarisation in viewpoints – split between those who find the role strongly rewarding versus those who find it challenging".
LKP rather doubts whether any of the prime London sites with RMCs, with whom it has regular dealings, took part in the leasehold survey at all.
It was farmed out to Nottingham based Brady Solicitors, which specialises in pursuing debt and advising freeholders on maximising ground rent incomes. LKP advised RMC directors and leaseholders not to participate
Disputes in prime London can involve hundreds of thousands and even millions of pounds, and there is little incentive for directors, who are often professionally distinguished, to share their views in a leasehold survey such as this.
Anthony Essien, LEASE chief executive, said: "The findings will update the sector, including Government, on current sentiment around leasehold management, to continue to inform the debate around raising standards, and we will look to assist leaseholders and RMC Directors with the educational needs identified in the survey."