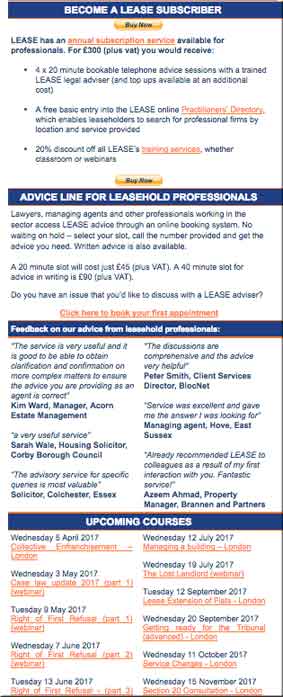 Two months after the housing minister told the Leasehold Advisory Service that it would be funded to free itself from commercial dependence on the sector, it is selling its services again.
Gavin Barwell told LEASE at its humiliating annual conference on February 1, that:
"What we really want is for [LEASE] to help leaseholders. To be solely, and unapologetically, on their side."
More here and Sir Peter Bottomley's demolition of the conference here:
'If I fail to offend anyone, I will do it next time,' Bottomley tells appalled LEASE annual conference
Instead, it is selling the following services:
£300
2 x 20 minutes "with a trained LEASE adviser (and top ups at additional cost)
This includes entry into the professional directory.
LKP has reported how individual solicitors have wrongly adverted themselves as "members of LEASE"
£325
Course on collective enfranchisement (presumably with tips on how to stuff it)
£45
Phone appointments with adviser for "lawyers, managing agents and other professionals working in the sector".
The advert from LEASE contains glowing endorsements from professionals in the sector.
Missing is one from game-player Martin Paine, a regular at Leasehold Advisory Service events who learned how to slip in deeds of variations into leases landing families with £8,000 a year ground rents.
Is this the Leasehold Advisory Service you had in mind, Mr Barwell?
Martin Paine 'is a crook who is turning sleaze in leases into an art form', MPs told