… But shouldn't the paid professionals be more than Air Warden Hodges?
There can be few industries where it would be felt appropriate to hold a private meeting to consider customer apathy. There can be fewer still that would seek to blame the consumer for that apathy.
Yet this is exactly what we face today. Managing agents, surveyors, lawyers and government officials will be attending a conference where they will listen to the head of the managing agent's trade body lead a "think tank" entitled:
How can we address leaseholder apathy?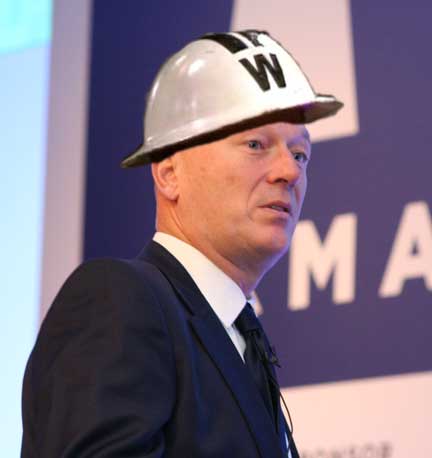 Paid professionals in the sector are fond of likening RMC and RTM directors to the comical characters in Dad's Army. Ho, ho they are all ineffectual Captain Mainwarings.
(This would be odd to apply also to the boards of prime London sites, where the building and its leases can be worth hundreds of millions of pounds, and the directors have careers that are perhaps even more glittering than property management, but so be it.)
Then again, if volunteer leaseholder directors are Dad's Army, does that mean that Nigel Glen, chief executive of ARMA representing the paid professionals, is the carping Air Warden Hodges?
Given that we are nine months on from Grenfell, and a number of other cladding sites face the trauma of potentially enormous costs to the leaseholders, it gives yet more reason why someone should have asked: is such a title is appropriate?
The sector has hardly covered itself with glory in dealing with the cladding issue. Suggesting the consumer may be apathetic hardly seems to help.
We should also remember that the leasehold sector has an appalling history of staging conferences where it has been standard practice to ridicule the customers for their ignorance, while at the same time training agents and landlords to give themselves advantages at the leaseholders' detriment.
It was always a disgrace that the taxpayer-funded Leasehold Advisory Service was in the forefront of this.
Government only brought LEASE to heal after many years of LKP exposing these events for what they were. No one was fired, of course, there was just a sudden "change of stance". Now the government gives LEASE even more money to become "wholly on the side of the leaseholder".
In fairness to Nigel Glen, who is heading the think tank session today, it may not have been his decision to choose the title of the conference.
It is, of course, true that it can be difficult on some sites to engage the leaseholders, but it's likely that the "think tank" will continue the sector's long standing view that the blame somehow mostly sits on the consumers' shoulders.
Perhaps its time to ask: "Does the fault sit with the managing agent?"
Or does the blame perhaps sit partially with the consumer, but mostly with the agent, given they are the ones being paid to undertake their role?
The think tank postulates
Government direction (Hackitt review; Commonhold; Residents Association) is for more leaseholder participation – how do we achieve this?
If we cannot get leaseholders sufficiently involved, what are the alternatives?
How do we ensure that leaseholders/RTM and RMC directors understand the sector and legislation?
What we are unfortunately likely to see, yet again, is the sector's habit of characterising residents groups and RMC/RTM boards as being run by a series of Captain Mainwarings, which is another aspect of the sector's lack of respect for the people who pay the service charges, which fund their wages.
It is, of course, true that with 4.4 million leasehold homes some sites will include some challenging individuals, but the sector never seems to look in the mirror and ask whether it should take some of the blame for not doing more to get an efficient leaseholder engagement?
If the leaseholders are Captain Mainwaring and his platoon, doesn't that mean that managing agents need to be more constructive than Air Warden Hodges?
We are also likely to hear the argument that leaseholders should not be trusted as they will only choose the cheapest agent and they never agree among themselves anyway, that they don't understand what management of leasehold sites is about.
What the "think tank" is very likely to miss is any input from leaseholders.
The truth is, until recently, the sector was making sure that property managers understood very clearly, it is the landlord who is the client, not the leaseholder. The term "customer" has only come into use to describe the leaseholder in the last 4 or 5 years.
The truth is some managing agents are more than keen to make sure the input from leaseholders is kept to a minimum.
The truth is that almost any leaseholder who wants to engage, and who wants to contact other leaseholders, is likely to face a managing agent explaining why the Data Protection Act (soon to be GDPR) means they cannot help. Over the years LKP has seen correspondence from a wide range of managing agents, solicitors and even government officials, that fails to properly understand the DPA. We have even seen cases where managing agents on RMC and RTM sites have told the directors that they are not allowed to know the contact details of the members and shareholders of their own company.
Perhaps if we change our approach to allowing leaseholders to organise themselves that may help them engage.
Perhaps if we accept that some of the things the sector does actively discourages engagement that might also help. Telling leaseholders in the social sector that they have major works contracts already in place that will run until 2031, as we've heard from one local authority, hardly suggests a landlord wanting to engage.
Rather than blaming the consumer perhaps managing agents should try to understand what they can do better to help the customer engage.
Perhaps agents should be more honest in accepting that they face the problem that on the contrary:
third party landlord clients are often far from keen on leaseholder engagement
a number of developers would be less than keen for their appointed managing agent to be too active in finding dilapidations in the first two years of a building's life
developers often mandate the agent to set a service charge at an unrealistically low level to make the properties easier to sell
some agents have been rather active in helping advise their developer clients how to "maximise ground rent opportunities"
The government, officials and LEASE should also take some of the blame for having spent years asserting that the leasehold sector was mostly working well when in truth we have always had fundamental problems faced mostly by the leaseholder but also by the agent and sometimes even the landlord. For over a decade officials actively resisted attempts to make it easier for leaseholders to organise themselves. The new officials working to change this should perhaps ask themselves why?
The sector has to do more to solve its own problems, including engagement, before expecting consumers to do more.
LKP set out years ago the basic steps needed. Do more to help encourage residents groups so they can use their individual expertise to engage more constructively with agents. Busy people are only going to spend their time engaging if they think they can have an effective and efficient relationship with the property manager.