… and if there is corruption involved they are the biggest victims
The right-to-buy schemes beloved of the present government are rendered farcical by local authorities whacking leaseholders with vast bills for major works.
No sooner has a former tenant owned the lease on a flat, than they are wiped out by the first big major works bill.
Given that such an abundance of these contracts have been established as fraudulent, local authority leasehold owners are also the principal victims of local council corruption as well. (More below)
LKP has been inundated with distressed calls from local authority leasehold owners. Last week we had a £38,000 demand from Lambeth, £44,000 from Haringey and £15,000 from Brent.
Sebastian O'Kelly spoke on this subject on Radio 4's You and Yours on November 13, where the case of two young Londoners facing an £18,000 demand for a new roof was discussed. There is basic advice on how to fight back that link.
Kate Newton and her partner Andy Worsley, who employed a solicitor and surveyor, managed to defeat this initiative after a ten-month battle. Ms Newton then alerted us to her friends facing the same predicament:
EE, who completed her ex-council flat purchase less than 5 months before £22k bill
PS, who completed less than 3 months before £17k bill
HF, who completed less than 8 months before £22k bill
SM, who completed one week before an £18k bill!
Kate Newton and Andy Worsley had been in their flat for only 6 months before £18k bill
Many of these buyers are in fact young Londoners buying council properties as a way of affording somewhere to live. The former council tenants have sold up and moved on.
LKP wants to know details of EVERY local authority major works scheme that is costing leaseholders more than £15,000.
It also wants details of how the disputes were resolved and whether flats were forfeited by councils.
Massive costs often arise from large contracts given to private contractors where there is no competitive costings for individual projects.
LKP asks why would any supplier need to be given a five or seven or even a 10-year contract for maintenance of council housing?
And then there are the abundance of cases of corruption, where leaseholders are often the principal private victims: scammed for wrongful contributions to a major works scheme and scammed as taxpayers as well.
Here are some examples. Can LKP readers please provide others over the past four years where cases have gone through the courts.
---
In September Anthony Bodgin, 65, an ex-Exeter council project manager, was sentenced to three and a half years for bribery and corruption.
Bodgin had been acting fraudulently for over five years before being caught and had taken £400,000 in bribes in total –£80,000 a year. It is a fair bet a good whack of this came from local authority leasehold owners.
The money had been spent on foreign holidays and a mobile home.
He was specifically done for accepting £125,000 as part of a £2 million contract, and £1,000 as a "gift" as part of a scaffolding contract.
He was also swimming in a gravy bowl of freebies to rugby matches, dinners, golf events, foreign conferences and so forth which corporate marketing people can dole out (and set against tax).
It remains unclear whether all the companies doing the bribing have been publicly named.
Exeter Council submitted it had lost £720,000 in the scams. This seems likely to be a fraction of the real costs.
---
Last Friday, the Brighton Argus reported that the police had given up an investigation into contractors overcharging the council by £300,000.
A plastering company, employed by the giant Mears group, was banned from working for Brighton and Hove City Council after overcharging on council housing repairs over a 17 month period.
Mears has agreed to return the funds.
---
Meanwhile, investigations at Tower Hamlets continue.
Former Communities Secretary Eric Pickles explained Tower Hamlets' had been "unfair" in charging leaseholders so much for repairs. How much has been overcharged may take years to uncover but local authority leasehold owners will still be obliged to pay the demands they get.
---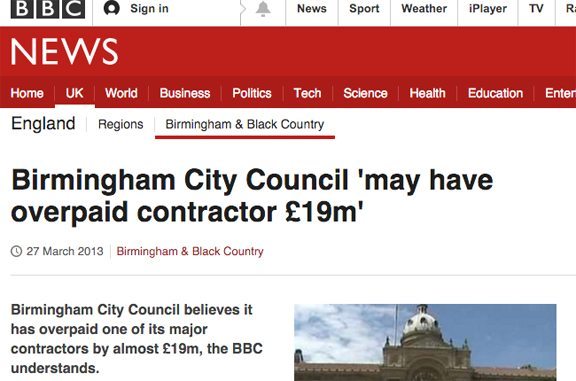 In 2013 the BBC reported that contractors may have overcharged Birmingham council £19 million with auditors reporting considerable "contract leakage".
---
LKP understands one of the most common ways that costs get out of control are "change orders".
Having agreed an initial package of works suppliers then get to charge additional fees when changes are made to the specification – or perhaps that the specification was not as detailed as it might be?
These new costs diverge considerably from the original costs involved. On other occasions, some of the contracts simply do not seem competitive to start with.
The historic practice of billing for more works than have been done is well understood among suppliers to local authorities.
A brown envelope for the local authority staff member and if it all goes wrong they plead guilty making sure not too much evidence is disclosed in court.
So on to Islington, where the then Housing Minister, Grant Shapps, was reported as saying it was "shameful and unforgivable that some councils are hitting leaseholders with unfair service charges".
In this case Islington was the authority being shamed. The Property Tribunal finding that a set of costs for window replacement billed at £149,000 should only have been charged at £10,000.
A local authority representative acknowledged that there was "sensitivity" as well as "anxiety and stress caused by these large bills". Some understatement!
---
In Leicester, police investigated £13 million contracts involving the repair of boilers and wiring of "council houses" which would have included a number of right to buy flats where leaseholders would have faced large costs.
---
It is not just the local authorities which face this problem.
In April 2015 social housing provider Circle Housing, who oversee 65,000 homes, admitted it had overcharged for repairs as part of a £220 million contract.
Executive Director Deborah Upton, who claims there has been no fraud, blames the problem on contractors recording works under the wrong code.
It is a problem which Ms Upton says is not uncommon at the start of a contract.
What was not clear in April 2015 is what Circle planned to do, if anything, to compensate those leaseholders overcharged.
In the meantime LKP continues to receive complaints about Circle for not consulting fully and for claiming that works are not subject to s20 consultation because of existing long-term contracts.
We also have a complaint that Circle failed to disclose relevant major works during a purchase and then sent the new owner a bill having said no major costs were expected in the foreseeable future.
Then this
http://www.croydonguardian.co.uk/news/13838144._Magic____leaky_roof_finally_repaired_hours_after_Wimbledon_Guardian_article_published/
And now
http://www.wimbledonguardian.co.uk/news/14163760.Frustrated_estate_residents_fighting___22_000_bill_for_repairs_by_housing_association_Circle_Housing_Merton_Priory/
Circle Housing Merton Priory records that is has entered into a long-term contract with Erith Contractors Ltd for 10 years on asbestos removal. It might argue that such a long contract is reasonable given this is a specialist business.
In 2013 Circle also entered into a contract for its decent homes project for "initial period of 5 years" with United Living.
United Living Group Holding Ltd has a net worth of £-5.25 million but is part owned by Lloyds Development Capital (Holdings) Ltd, who the accounts show as being paid £125,000 in the year for "monitoring their investment".
---
In June 2015, the Evening Standard reported that Scotland Yard were on the case of Hackney, with accusations of bribery and corruption among Hackney Homes staff.
Among other things, it is alleged they took gifts for work not done.
One of the companies' names in the Standard report is Lakehouse.
Hackney said "The chief executive of Hackney Homes has suspended five members of staff pending an internal investigation. If evidence of wrongdoing is found, further action will be taken."
Lakehouse said it was supporting Hackney with its "ongoing investigation". Lakehouse Contracts Ltd is reported as having a net worth of £-16.96 million in their latest accounts and its ultimate parent Lakehouse Holdings Ltd as having a new worth of £-11.5 million.
---
Local Authorities and Social Housing groups claim they get benefits from major contracts over a long period of time.
Too often it seems that staff are signing up to these huge long-term contracts with limited oversight. The potential for corruption is enormous.
---
This is a website addressing local authority leasehold issues which may help: