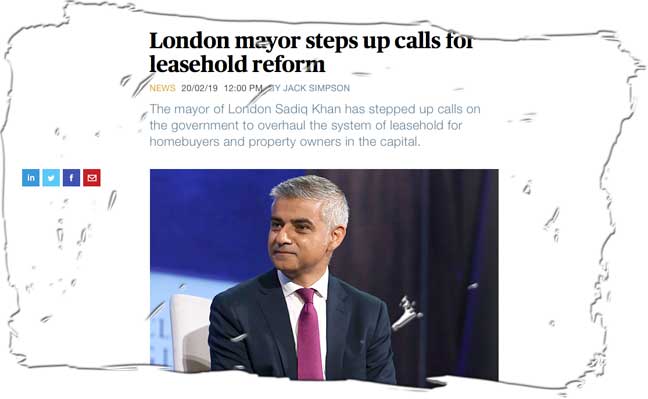 London mayor Sadiq Khan has launched a new leasehold advice portal, and has condemned the taxpayer-funded Leasehold Advisory Service as "unfit for purpose".
He also backed "wholesale reform of leasehold, including a long-term shift toward alternative tenures such as commonhold".
Today's statement from the mayor's office reads:
"Government funds the Leasehold Advisory Service (LEASE) – an advice service for leaseholders in England and Wales – but the Mayor believes ministers have so far failed to ensure it is fit for purpose for a growing sector.

"The Mayor's guide [to leasehold] acts as an alternative starting point for Londoners seeking information about leasehold, and directs users to seek further, more detailed advice from legal professionals and organisations specialising in housing and leasehold advice where necessary."
The mayor's advice portal is here
The portal references the Leasehold Knowledge Partnership, a registered charity, running the All Party Parliamentary Group (APPG) on leasehold and commonhold reform and which "provides support and advocacy for those experiencing issues with the leasehold tenure".
The mayor called on ministers to overhaul the system of leasehold for homebuyers in the capital.
An estimated third of London's homes – and over 90 per cent of new-build housing – are owned on a leasehold basis, with many leaseholders finding it a complex and confusing form of homeownership.
The Mayor has called for wholesale reform of leasehold, including a long-term shift toward alternative tenures such as commonhold.
James Murray, Deputy Mayor for Housing and Residential Development, said: "For too many Londoners being a leaseholder is a complex and confusing legal minefield.
"Beyond the financial commitments, the option of extending a lease or buying a freehold can present real legal and financial challenges for anyone who is not well versed in property law. The Mayor's new online guide will give London's leaseholders the basic knowledge they need to understand their rights, and will help them know what to do if they think those rights are being abused.
"The Government has so shown no real ambition to overhaul leasehold, nor to help existing leaseholders with the challenges they face. That's why the Mayor is urging Government to prioritise legislation to help both new and existing leaseholders, and in the meanwhile we are doing all we can to help leaseholders in the capital with advice and guidance on their rights."
A recent study by the National Association of Estate Agents found that 94 per cent of leaseholders regretted buying leasehold properties, and 65 per cent would welcome additional information on their rights and responsibilities (National Leaseholder Survey, 2016).
The Mayor believes it is essential that homebuyers are better informed about the obligations and risks involved in purchasing a leasehold property.
The Leasehold Knowledge Partnership applauds the mayor taking the initiative in the face of government inaction.
Sebastian O'Kelly, LKP chief executive, said:
"None of the reforms by government or the Law Commission owe anything at all to the actions of the Leasehold Advisory Service, which should cease to be the monopoly taxpayer-funded advisory body.

"It has sucked up to the vested interests in this sector for years, holding conferences – usually chaired by sector stooges – to further the commercial interests of developers and freehold owners.

"It is an expensive irrelevance, used by government as an excuse for inaction."
The Leasehold Advisory Service was mauled by the Communities Select Committee last month, which reported that many leaseholders had reported it as "appalling":
Can the Leasehold Advisory Service monopoly survive devastating questioning by Select Committee?
---
The Leasehold Advisory Service has a new interim chair, Wanda Goldwag, a former marketing executive of British Airways.
The following in The Times yesterday: