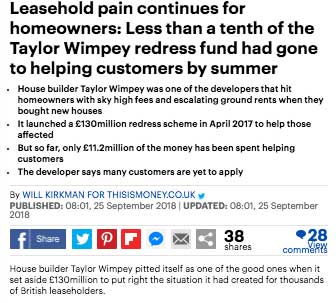 The level of media interest in leasehold problems continues to grow. There is now regular coverage in: the Sunday Times, The Times, the FT, the Guardian, the Telegraph and the Daily Mail.
BBC Breakfast returned to the issue recently to interview new LKP trustee, Jo Darbyshire, and Director of the Conveyancing Association, Beth Rudolf, who is one of the few people in the sector willing to expose the developers' behaviour or as the BBC put it "the developers have been pulling a fast one".
This week saw this article in the Daily Mail:
House builder Taylor Wimpey was one of the developers that hit homeowners with sky high fees and escalating ground rents when they bought new houses It launched a £130million redress scheme in April 2017 to help those affected But so far, only £11.2million of the money has been spent helping customers The developer says many customers are yet to apply House builder Taylor Wimpey pitted itself as one of the good ones when it set aside £130million to put right the situation it had created for thousands of British leaseholders.
Today there's an article in the Sunday Times looking at the potential problems relating to shared ownership and leasehold.
Getting the keys to a home of your own is a moment no one ever forgets. Yet for Alex Tan, buying his first flat has become memorable for all the wrong reasons.
BBC Radio 4 Moneybox covered leasehold on Saturday, asking why can't England learn a lesson from Scotland (where they have removed leasehold)?
BBC iPlayer Radio – listen to live BBC Radio or catch up on BBC programmes from across the UK and World Service
Our favourite article of the week, however, goes this bit of social media. The sector will probably argue is another supposedly "ranty" leaseholder. The sector is very keen to suggest that leaseholders don't understand and just get angry, but then maybe leaseholders have a very good reason to get angry?
We all know that lots of developers have made claims during the sales process that 'somehow' never appeared in writing, and which are then not honoured. This leaseholder was told, before purchasing, that they could buy the freehold of their leasehold house for £500, but only after he'd purchased. The £500 became £9,000, but this is a leaseholder who did not give up.