Self-regulation and codes of conduct have failed. Bring in commonhold and end the leasehold rip-offs.
APPG pays "public tribute" to the work of LKP in revealing these abuses
"LKP have helped hundreds of leaseholders keep their homes and continue to do so with very limited resources," it says.
Leasehold Sector 'cannot be trusted'
---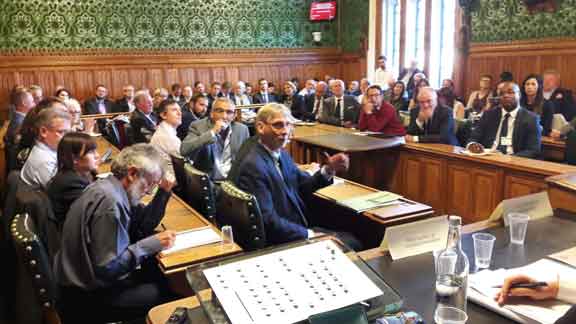 All Party Parliamentary Group on leasehold and commonhold reform has today published its uncompromising response to Communities Secretary Sajid Javid's consultation.
The APPG, which has 110 members, demands an end to leasehold houses and urges the scrapping of new ground rents, which are for no service whatsoever.
The property industry's pleas for giving self-regulation another chance with a "code of practice" is emphatically rejected.
The solution is to bring in commonhold and end the creation of leasehold tenancies, which cause such misery for so many who buy them.
It adds:
"There is a question not asked in the consultation:
"Why has it has taken so long for parliament, the civil-service advisers to ministers and government to stop the leasehold situation getting worse and to start dealing with the historic issues, which have been and are in plain sight?"
The APPG continues:
"The government has made clear that it accepts that we have a "broken housing market" and that there are "unfair practices" in the leasehold sector, which need to be addressed.
"Action is needed urgently, so that millions of leaseholders can be given greater protection and security and be treated more fairly within a sector which is presently open to abuse despite the systems that exist under current legislation."
The APPG brushes aside one of the favoured arguments of developers and leasehold sector professionals that leasehold properties are cheaper than freehold ones:
"The APPG's interim report (April 2017)8 found there seems little direct evidence that offering leasehold houses results in lower costs to home buyers.

"No developer has been willing, nor do we think able to provide specific evidence that ground rent income streams are needed to make a development viable."
The APPG quotes Jolyon Harrison, CEO of Gleeson Homes, saying that there is no justification for leasehold houses.
It cites Bob Bessell, founder of retirement housebuilder Retirement Security Limited saying there is no justification for ground rents, either.
Faced with the question, in what circumstances do you consider that leasehold houses supported by Help to Buy Equity Loan could be justified?
The APPG replies: "None."
"The APPG is aware that providers in the sector are likely to come forward with some form of self-regulating code of conduct. There is no evidence historically that self-regulation has been effective.

"There is evidence the sector may have already begun to move on from generating ground rent income streams. We are now seeing an increase in onerous covenants in freehold titles that seek to reflect many of the charges that had recently been imposed on leasehold houses.

"The fact that the sector has moved so rapidly to find new income streams should alert the government to the sector's approach to self-regulation.
"Too many cannot be trusted," says the APPG
Regarding those trapped in unsellable leasehold properties, the APPG says:
"The government might wish to consider whether what has taken place constitutes miss-selling of new build homes in England and Wales."
Further points are made concerning the retirement housing sector not working as it should; that leasehold property managers, who are entrusted with hundreds of thousands of pounds, require regulation, and that the cost regime of the property tribunal is weighted against leaseholders.
Referring to charity freeholders, such as the National Trust, MPs argue that as they are exempt from leaseholders exercising their right of enfranchisement to buy the freeholds to their homes, they should not be subjecting their leaseholders to onerous "modern" ground rents.
The full APPG submission to Sajid Javid's consultation is here: APPG response unfair practices consultation (fv)