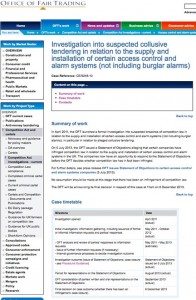 The long awaited Office of Fair Trading investigation into the Peverel / Cirrus price-fixing scandal concludes on Friday at 11am. Click on image to read OFT website or here
But there will be a delay in publishing the Infringement Decision – if there is one.
"If the final outcome in this investigation is an Infringement Decision, we will not be able to make that available on our website on the day of the announcement," says the OFT.
"This is because we are obliged to ensure that the public version of any Decision does not contain any confidential information before it is published on the website.  This would mean a delay before any Decision is actually published."
It is perhaps unremarkable given the protracted nature of this inquiry that there is to be yet further delay.
The scandal concerns Peverel's subsidiary Cirrus winning contracts at retirement leasehold sites across the country following a bogus tendering process. Three stooge companies always placed higher bids for the work making Cirrus seem a bargain.
The scam operated between 2006 and 2009, and the OFT accepted the fiction that Peverel turned itself in in December 2009 and therefore should be treated leniently following the investigation.
In fact, Campaign against retirement leasehold exploitation activists had alerted the OFT and the Serious Fraud Office before this date; held a meeting at the House of Commons and had the issues aired in the Times.
All this occurred before Peverel supposedly decided to report itself to the OFT.
It was also galling for the pensioners that the OFT inquiry only began in April 2011, and this leisurely pace has characterized its activities ever since.
Both Sir Peter Bottomley, MP, and Ed Davey, the Energy Secretary who hosted the Campaign against retirement leasehold exploitation meeting in the Commons in November 2009, have dismissed the notion that the OFT only became aware of this scandal after Peverel confessed.
Campaign against retirement leasehold exploitation estimates that each retirement site affected by the price-fixing scam would have been conned out of at least £20,000.
The OFT has confirmed that if an Infringement Decision is issued the affected retirement sites will be named.