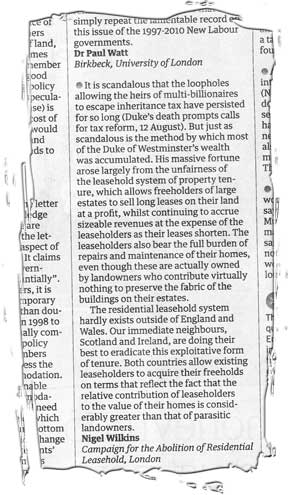 The Guardian has published a letter from Nigel Wilkins, of the Campaign for the Abolition of Residential Leasehold, criticising the source of the Duke of Westminster's wealth.
"His massive fortune arose largely from the unfairness of the leasehold system of property tenure, which allows freeholders of large estates to sell long leases on their land at a profit, whilst continuing to accrue sizeable revenues at the espense of the leaseholders as their leases shorten," writes Mr Wilkins.
Along with its nostalgic references to "parasitic landowners" – a term which could have been used, and probably was, by Lloyd George a hundred years ago – Mr Wilkins also attacks "loopholes" that allow multi-millionaires to escape inheritance tax.
Coincidentally, LKP addressed the origins of the Grovesnor's wealth in an article prompted by leasehold coverage in the FT on July 31. This was before the death of Gerald, the sixth Duke of Westminster in August. It is also reproduced below.
LKP's comment on this would be: the upside of political continuity and stability in England is that we have not ended up killing each other for a very long time.
The downside is that some inequitable laws have survived, including residential leasehold.
The problem is not so much the aristocrats of the past – whose names invariably cover our war memorials to a degree that might soften the heart of the most ferocious sans-culotte – but the issue of creating leasehold today.
The number of residential leasehold properties has doubled since the 1990s.
Persimmon and others are now busily building leasehold houses.
And are we really ready to create Archduke Tchenguiz in a few generations time?
---
Would you choose a good night out, or 500 freehold acres of Mayfair and Belgravia?
Today's [July 31 2016]
article in the Financial Times
prompts this historical footnote.
The FT quite rightly highlights the Court of Appeal action of chartered surveyor James Wyatt, of Parthenia Limited, who is challenging the mathematical calculation of values in lease extensions.
If he wins the case, and he is deploying the beguiling tongue of Philip Rainey QC, he will break up a cosy earner for freeholders. They presently earn millions based on flawed calculations drawn up on the back of a fag packet by mainstream chartered surveyors toadying up to London's powerful freeholders. Allegedly, may need to be placed somewhere in that sentence.
None is more powerful than the Duke of Westminster and, as a matter of pure coincidence, it was his Grosvenor Estate that commissioned the flawed mathematical model for lease valuations back in 1996. This was a detail that did not escape the FT.
It is probably even more of a coincidence that this model, acknowledged to be flawed by the Upper Tribunal of the property chamber, has meant leaseholders have paid millions more than they should have done to extend their leases.
It will doubtless astonish young history students that the Grosvenors do not own large chunks of central London owing to brilliant commercial acumen, but to a lucky inheritance through a modest woman.
(As a matter of fact, almost all English dukedoms owe their origins to the cleverness or hard work of women, who put in fatiguing and largely horizontal labour on behalf of male, often royal benefactors.)
Curiously enough, in Restoration England there were two women in London called Mary Davies, with slightly different spellings.
One was an actress and what today would probably be described as a sex worker. She caught the eye of Charles II and had an expensive portrait painted, before being given the push in favour of Nell Gwynne.
The other was the frumpish and pious new money daughter of a successful scrivener, or scribe, although who knows what course her life may have taken as at the time of her marriage she was only 12.
Her astonishing dowry was the manor of Ebury, 500 acres of land north of the Thames to the west of Westminster.
For her husband to be, the Cheshire baronet Sir Thomas Grosvenor, 500 acres of freehold property, even if a lot of it was a marshy urban rubbish tip, were far more attractive than the diversions of Moll Davis.
In 1677 he married Mary, which would later establish his family as one of the richest in the country – subsequently, the richest – and they were repeatedly promoted through the aristocratic ranks until eventually given a dukedom at the end of the Victorian age.
It was a slow and steady progression, rather than Vincent Tchenguiz's brief rise and (as yet incomplete) fall with residential freeholds.
Mary's acres remained largely untouched by the Grosvenors until the 1720s, when they developed the northern part – now known as Mayfair – around Grosvenor Square.
A few generations later, in the 1820s, their focus moved south – to what is now Belgravia – developing Eaton Square, Chester Square and other famous addresses. Later in the 19th century, the area of Pimlico was developed; this was sold in 1953.