By Richard Murphy
The purpose of this article it to look at the proposals announced by the Government (7 January 2021) and help leaseholders make an informed choice of what the impact is going to be for them in financial terms. Should they wait for the changes to be implemented before seeking a lease extension or purchasing their freehold?

The press release headlines states:

Millions of leaseholders will be given the right to extend their lease by a maximum term of 990 years at zero ground rent.
Government reforms make it easier and cheaper for leaseholders to buy  their homes:
Millions of leaseholders will be given a new right to extend their lease by 990 years Changes could save households from thousands to tens of thousands of pounds Elderly also protected by reducing ground rents to zero for all new retirement properties Millions of leaseholders will be given the right to extend their lease by a maximum term of 990 years at zero ground rent, the Housing Secretary Robert Jenrick has announced today (7 January 2021).
A lease extension for a flat can dramatically increase its value, even for flats with long leases. Savills' research has suggested (a bit optimistically I would say) leases with an unexpired term of 100, 90 and 80 years will increase in value by 5%, 7.5% and 10% respectively.
However, for leases above 130 years, any extra years will not add any value (See Savills Graph below).
Will these new changes make any difference given that Leaseholders already have a right to a 90-year lease extension at a zero-ground rent?
The 990-year lease extension proposal is a bit farcical, as in reality, most flats are unlikely to be around in 100 years never mind 990 years, whereas the existing rules allow for unlimited statutory lease extensions!
LKP does not agree with this. 999-year leases end games being played with lease lengths. After all this is a sector where a practitioners such as Martin Paine had the little wheeze – perhaps still does – of backdating aggressive ground rent terms of a lease extension to the date when the lease was first issued not from when it was extended, dumping quite poor families in properties with £8,000pa ground rents:
Affluent freehold-owning couple's lease terms bring ruin to families who bought flats that are virtually worthless
Therefore, the extra 900 years is unnecessary to maximise the value of the lease.

Part of this is clearly spin as the right to a Zero Ground Rent already exists and has done for the last 28 years! These 2 reforms have been described as "window dressing", look and sound very good but do not address any of the real problems in the current system.
On its own it will not make the process cheaper or simpler which was the stated purpose of these reforms.
Valuation Example

To illustrate these points, I have taken a flat worth £400,000 with 87 years unexpired, assuming a zero Ground Rent (to assist the illustration)
Under the existing rules, the premium for a new of 177-year lease would be £5722.
Comparing this to a valuation under the new proposal with a 990-year lease extension, the cost will increase slightly by £72 to £5794, without creating any appreciable increase in value.

Existing Valuation
| | | | | |
| --- | --- | --- | --- | --- |
| Reversion 1 | | | | |
| Freehold value of flat | | £404,040 | | |
| PV £1 in 87 years @5% | | 0.014339 | £5,794 | |
| Reversion 2 | | | | |
| Freehold value of flat | | £404,040 | | |
| PV £1 in 177 years @ 5% | | 0.000178 | -£72 | |
| | | | | |
| | | | Diminution of landlord's reversion | £5,722 |
Proposed valuation
| | | | | |
| --- | --- | --- | --- | --- |
| Reversion 1 | | | | |
| Freehold value of flat | | £404,040 | | |
| PV £1 in 87 years @5% | | 0.014339 | £5,794 | |
| Reversion 2 | | | | |
| Freehold value of flat | | £404,040 | | |
| PV £1 in 1077 years @5% | | 0 | £0 | |
| | | | | |
| | | | Diminution of landlord's reversion: | £5,794 |
If you have a lease greater than 80 years, should you wait for the government to implement these changes before applying for a lease extension?
You are already entitled to a 90-year lease extension at a Zero Ground Rent, which will give you a lease of more than 170 years.
As there is no timetable for the reform, it may take years.
Waiting for the reforms while house prices continue to rise, and lease length continues to fall will lead to an increase in the costs for leaseholders.
If the lease were to drop below 80 years, the cost of a lease extension would increase by more than 175% (assuming marriage value is not abolished at the same time).
Do not wait!
This is therefore a "no brainer" and if your lease is in this category, my advice is to get your lease extension carried out under the existing rules as soon as possible.
The Savills Enfranchisement Graph below shows leases above 130 years are very close to the Freehold Value.

Savills Enfranchisement Graph 2015: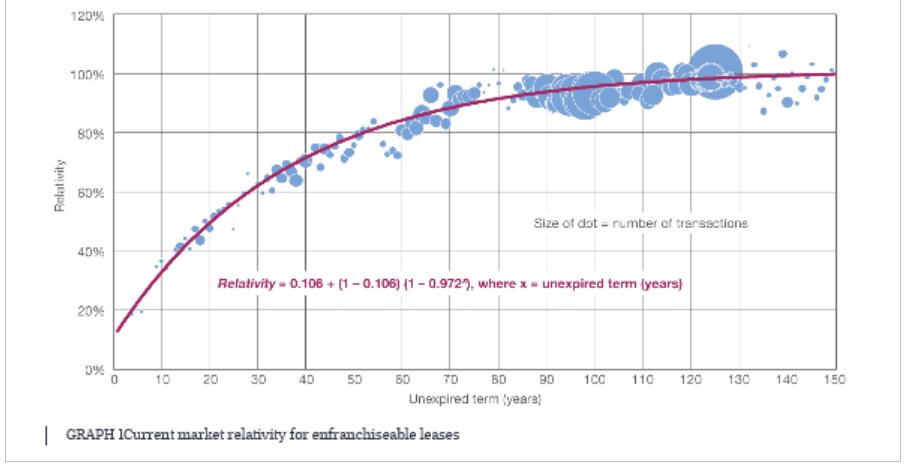 The Press Release is contradictory and confusing, as it provides for " zero ground rent" on "retirement properties", all "homes" and then refers to " a cap on ground rent".
I suspect what is meant is as follows:
In anticipation of these rule changes the large developers had already adopted zero ground rents with 999 years minimum term, to ensure funding for government schemes going forward such as "Help to Buy".
Leasehold scandal: 'Massive' breakthrough as UK's largest housebuilder eliminates ground rents | The Independent:
Campaigners have hailed a breakthrough in the leasehold scandal that could help thousands of prospective homeowners after the UK's largest house-builder eliminated ground rents on its new developments. Barratt Developments is beginning to offer 999-year leases and zero ground rent on new-build flats.
The press release also states:
The government is abolishing prohibitive costs like 'marriage value' and setting the calculation rates to ensure this is fairer, cheaper and more transparent.
The abolition of Marriage Value is a game-changer as it would give huge benefits to leaseholders. I have prepared a table to show the likely impact on the cost of a lease extension for a flat assuming extended lease flat value of £400,000 (The percentage reduction can be applied regardless of Flat value):
However, when the Law Commission proposed this change, Catherine Callaghan QC, a human rights expert, was engaged to give an opinion on whether the various options would be lawful. She opined that the abolishing of marriage value had a slightly less than 50% chance of being in breach of the Human Rights Legislation for Freeholders.
Therefore, it is surprising that the government has chosen this option. I can foresee many challenges and obstacles to this reform before it passes onto the statute books (if ever).

This reform does not affect leases that are more than 80 years as marriage value is not applicable.

If you have a lease of 80 years or less, should you wait for the government to implement these changes before applying for a lease extension or completing on one?

The big problem with this reform:
• There is no fixed timetable for the changes to take place (if ever).
• It will be difficult to sell or raise money on flats that are not extended.
• Lease lengths are falling and if flat prices continue to rise without implementation, costs will increase for those that delay.
• Many Industry Professionals believe the reforms if implemented will only apply to "owner-occupier's" and not investors.
Personal circumstances will determine whether you risk delaying or push ahead.
Some may say that when you purchased the property, you may have factored-in the cost of the lease extension. If so, rather than having the uncertainty, you may decide to press ahead.
As far as investors are concerned, where the reforms are less clear, the cost of a lease extension may be Tax deductible and have less impact (please consult an accountant for this advice).
It is a gamble whichever way you look at this.
With regard to Calculation Rates most valuers already adopt fixed rates on Deferment (5% for Flats and 4.75% for Houses as per the Sportelli Case)
I can envisage the calculator to work out the Reversion looking something like this:
There would of course be a separate calculation to Capitalise Ground Rent which could easily be incorporated to achieve a final figure.
My previous research would suggest the following multipliers could be used for most Ground Rents: –
Will you still need valuers?
Even if all the reforms are enacted, there will still be a need for a valuation of the flat, so that these percentages can be applied.
In the words of Mark Twain …… "Rumours of my Death have been greatly exaggerated".

I would be interested to hear any feedback on this article and happy to hear from anyone interested in adding value to their flat by extending their lease or buying their freehold.

If you have any queries or concerns about this matter, please contact me at:
richard@richardjohnclarke.com or on Twitter @RichardMurphy1 and @RJC_Surveyors or call me on 020 7499 8043