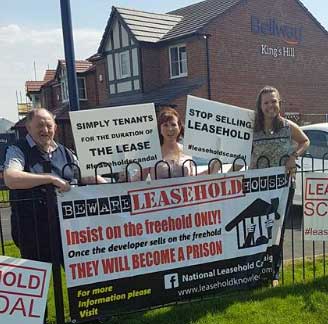 Bellway is the latest developer to have a public demonstration against leasehold houses on its doorstep.
Protestors from the National Leasehold Campaign Facebook group, led by Katie Kendrick and Cath Williams (pictured above) are protesting today outside Bellway's King's Hill site in Bromborough, The Wirral, in Cheshire.
The demo follows that in March outside Redrow's Ledsham Garden Village, where 2,000 leasehold houses are being built.
The protestors are joined by former MP and Labour parliamentary candidate Justin Madders.
Mr Madders made several interventions in Parliament on behalf of leaseholders.
Justin 'Madders than hell' about Taylor Wimpey / Bellway / Redrow ground rent scams in leasehold houses
The continuing protest indicate the level of anger at the developers turning homes into complicated investment assets.
The leasehold houses will give the freeholder's numerous income streams, as well as all future development potential.
Many come with excessive ground rent terms, which are causing alarm among mortgage lenders over future saleability.
In most cases, the freeholds of leasehold houses have been sold on to anonymous investors hiding behind nominee directors.
Offshore companies also own the freeholds to the homes of hard-working families, according to freehold manager Homeground … and can anonymous forfeit them in the event of a monetary debt.
Homeground is owned by Will Astor, half brother of Samantha Cameron, who runs a fund of £1.2 billion of residential freeholds.
One leasehold house buyer, Adele Cooke, has asked Bellway:
"Can I ask why you are still selling houses on any site as leasehold not freehold!!!

"I have just lost the sale of my property due to this leasehold scandal and so have lost the beautiful house I had just bought.

"Bellway are just as bad as all the other big building companies in this rip-off, leasehold nightmare.

"Yes, you say you have not broken the law! But you have: by us using your solicitors, who never informed us of any onerous clauses.

"You never told thus you would sell the freehold on. So now to buy it costs us £1,000s. It is one big con!

"I hope you never sell anymore houses so long as they are leasehold.

"And if you advertise homes as freehold, then they should have no onerous clauses or restricted covenants remaining."