SDL Bigwood tried to dump its debts on 'services that residents did not see being implemented', claims MP Kelly Tolhurst
Hyde Housing Association raised 'service' charges from £85 to £128 a month
London and Quadrant Housing 'tried to charge for street lamps and street cleaning provided by Medway Council'
Housing minister wants to 'make it easier to stop unfair fees and exorbitant service charges, and to access effective redress'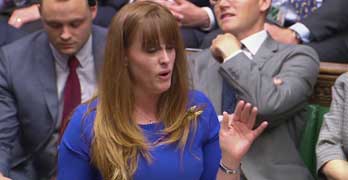 In a brilliant day for leaseholders – which will infuriate developers, ground rent speculators, trade bodies and professionals who feed off the vulnerability of the nation's long-term tenants (aka leaseholders) – the second parliamentary debate yesterday concerned property management.
Government – especially our dear friends, the DCLG civil servants – can't quite bring themselves to thank or even mention the Leasehold Knowledge Partnership but draw from its programme and data.
The debate was called by Conservative MP Kelly Tolhurst, whose Rochester and Strood constituents are upset by private estate charges.
It can be read in full here:
Hansard (the Official Report) is the edited verbatim report of proceedings of both the House of Commons and the House of Lords. Daily Debates from Hansard are published on this website the next working day.
Private estate charges are another area where developers have created an investment asset at the expense of their customers. The management contracts are sold off to speculators and property management companies in the same way that as ground rents.
Ms Tolhurst said the "typical annual fee for new build homes is £2,777, while for older properties it is £1,863".
The management services provided on these estates are often minimal.
She said: "Many residents of the Chimes and the Pastures estates in Hoo are having ongoing disputes with their new property management company, SDL Bigwood.
"When householders on the estates bought their properties, they were informed that only when the whole of the estate was handed over from Taylor Wimpey and Bellway would they incur property management charges.
"Until then, Taylor Wimpey and Bellway would pay them. Unfortunately, the companies failed to communicate with residents as to when any handover would be made."
SDL Bigwood then "tried to bring forward debts from its former business for services that residents did not see being implemented".

Ms Tolhurst said: "There is no onus on the property management company to provide any evidence of the services they are charging for being carried out.

"They merely need to provide end-of-year accounts long after the end of the year.
"Some residents face paying thousands of pounds for a backlog of fees passed on from one of the former companies, with payment demanded by the end of the year."
"It is wrong that so many people who only want to provide a roof over their families' heads find themselves trapped and helpless and see their money wasted.
Ms Tolhurst went on to name Hyde Housing Association where estimated service charges rose from £85 a month to £128, and London and Quadrant.
London and Quadrant Housing at Lodge Hill "tried to charge for street lamps and street cleaning, which were both undertaken by the local authority, Medway Council.
"Similarly, charges around sewage collection—later deemed to be out of the association's remit—were also questioned.
Ms Tolhurst raising these issues will be music to the Homeowners Rights Network, which is campaigning against rip-off estate charges:
We are being ripped off by private estate charges by developers and property predators just like leaseholders, says HORnet
Alok Sharma replied
"… if one pays hundreds of pounds for a service, one expects the person providing the service to be a competent, experienced professional who will deliver what has been agreed.

"Currently, however, anyone can set up a business as a property agent, even if they have no experience. Agents are not currently required to have any qualifications, undertake training or indeed be accredited, so unsurprisingly some experts believe that agents are overcharging by as much as £1.4 billion every year, with reports of poor service or even, in some cases, no service provided at all.

"… That is totally unacceptable, and I appreciate the frustration that my hon. Friend's constituents must feel when paying service charges over which they have little or no say and then, on top of that, finding it extremely difficult to challenge overcharging or a lack of delivery.
"Existing processes for leaseholders to seek redress or decide to carry out their own property management are often lengthy and complex, leaving them at the mercy of agents who are not doing their jobs or, if they are doing them, doing them pretty badly."
The government has launched a review of property management which ALL leaseholders should contribute to:
This call for evidence seeks views on the regulation of letting and managing agents and the approaches government could take to implement any such regulation.
"Our focus is on protecting and empowering those who pay for managing agents' services, including leaseholders. We want to make it easier for them to stop unfair fees and exorbitant service charges, and to access effective redress. We also want to make the process for removing or switching agents much easier."
Mr Sharma praised the sector for taking "encouraging steps towards self-regulation and sharing best practice".
This echoes the sentiments of Sajid Javid speaking at the conference of the Association of Residential Managing Agents (ARMA).
SDL Bigwood is in fact a member of ARMA, as well as:
ARHM (the Association of Retirement Housing Managers)
RICS (Royal Institution of Chartered Surveyors)
IRPM (Institute of Residential Property Management)
In fact, ARMA's self-regulation has fallen apart with the resignation of its former regulator ex-Labour minister Sally Keeble, who claims she was blocked by the trade body from considering a complaint.
ARMA regulator Sally Keeble quit 'after being blocked' from ruling on Warwick Estates lift shaft fatality
Ms Keeble explained at length why self-regulation had failed in a lengthy article for LKP.
ARMA regulator Sally Keeble outlines five areas where statutory regulation is needed in leasehold