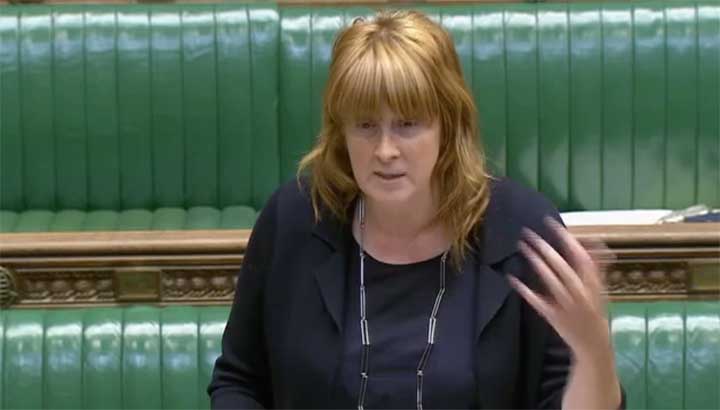 Commons debate, July 11 2019
By Sebastian O'Kelly
LKP chief executive
The Labour shadow housing minister Sarah Jones questioned why the government had not made more progress with reforming our predatory leasehold laws.
The Communities Select Committee had interviewed 7-800 people, including leaseholders, freeholders, developers, lawyers and trade bodies involved in the sector.
Its exhaustive report under chairman Clive Betts MP is a blueprint for reform: and Labour drew on it to produce its own clear policy on reforming leasehold.
Sarah Jones was generous in paying tribute to the Leasehold Knowledge Partnership – which even housing minister Heather Wheeler referenced later in the debate.
Sarah Jones said:
"We have all heard some of the stories many times, and the time has come to act. One in four homes in this country are leasehold homes, which means that up to 6 million people have basically bought homes that they think they own when they do not. We have heard horrific cases of people trapped in homes they cannot sell, people being ripped off with extortionate service charges, and people being threatened with eviction for absolutely no good reason.

"No other major economy has this feudal-style system.

"Every other major economy has moved away from leasehold and towards fairer, more transparent systems of ownership. Scotland has abolished leasehold, transferring all properties held on long leases to outright ownership, and action has been taken in Northern Ireland.

"Other countries have demonstrated that alternative models of ownership can work. There are co-op models, and the Australian system has spread to other countries—Canada, New Zealand and Singapore. This is being done everywhere else, but not in the UK."
She added:
"Labour proposes to end the sale of new leasehold houses, with direct effect, and to legislate to end the sale of new leasehold flats. We want existing leaseholders to be able to buy the full freehold ownership of their home for no more than 1% of the property's value …

"Labour would end ground rents for new leasehold homes, and as has been said, we would cap them for existing leaseholders at 0.1% of the property's value, up to a maximum of £250 a year.

"Labour would give new rights to empower leaseholders to hire and fire their managing agent, or to take over the management of their home themselves. Importantly, we would crack down on unfair fees and contract terms by publishing a reference list of reasonable charges, not dissimilar to that which the Government introduced in the Tenant Fees Act 2019. We could have a similar system.

"We want to see transparency, which we would introduce on service charges, and we want to give leaseholders a right to challenge rip-off fees. As we have heard, such fees are complex, difficult and expensive."
In reply, the Housing minister Heather Wheeler responded:
"I understand that many existing leaseholders want the Government to legislate to amend onerous ground rent terms.

"As I pointed out previously, the inclusion of legislation to amend existing contracts presents problematic human rights implications, as has been made clear in ​the information put out recently by the Law Commission.

"Despite that, I firmly believe that doubling ground rents are unacceptable and should be varied, which is why we are encouraging the sector to voluntarily vary leases and show that it is willing to solve the problems of its own creation.

"I have been encouraged by the response we have received. More than 60 leading developers, freeholders and managing agents have signed a public pledge that will free leaseholders from the shackles of doubling ground rents.

"I am aware that many leaseholders believe they were mis-sold their properties. Many people write to me to say that the leasehold tenure was not properly explained and that onerous terms were not made it clear to them.

"Others were promised that they would be able to buy the freehold for a certain price after two years, only to find that had been sold on buy an investor in that time.

"I am delighted that we have a commitment of action from the Competition and Markets Authority, which will look into the issue. It will use its consumer protection powers to determine whether leasehold terms, including onerous ground rents and permission fees, can be classed as unfair. If the evidence warrants it, the CMA will consider bringing forward enforcement proceedings."
Heather Wheeler referred to the government ambition to reinvigorate commonhold – details awaiting – and made reference to Lord Best's report into property management.
She added:
"We value the work of the Leasehold Knowledge Partnership and how it works with the Department. I am clear that LEASE is absolutely on the side of leaseholders. Its advice has helped many leaseholders to understand what is in their lease."