---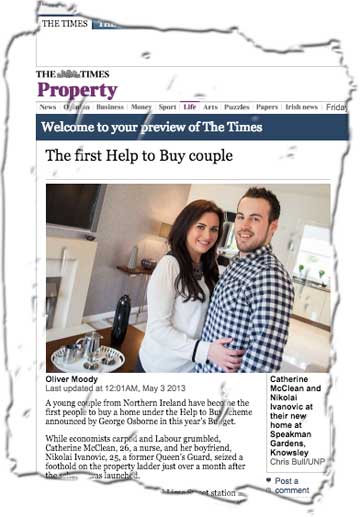 Taylor Wimpey's hopes of containing the doubling ground rent scandal has been dealt a blow as another estate is mobilising and calling in two MPs.
Speakman Gardens, at Prescot, in Knowsley, Liverpool, is a mixed site of 250 houses and flats spanning the constituencies of Labour MPs Marie Rimmer and George Howarth.
A Facebook page has been set up and local and national media are being contacted.
Yet again the housebuilder seized the opportunity to build leasehold houses as the North West has a large amount of these dating from industrial times.
But whereas old properties carry minimal ground rents – LKP has been contacted by leaseholders paying £3 a year – those at Speakman Gardens are £250pa and double every ten years.
Many of the buyers here used the taxpayer support Home Buy scheme, and then its successor the Help To Buy scheme, where taxpayers underwrite mortgages.
Indeed, Taylor Wimpey's PR department got national press coverage for Speakman Gardens in May 2013 after Catherine McClean, 26, a nurse, and her boyfriend Nikolai Ivanovic, 25, a former Queen's Guard, bought the first Help To Buy home in the country.
Three neighbours – Lisa Chapple, Lisa Roxby and Julie Stewart – have written to the MPS.
Lisa Chapple moved into her home on December 18 2009 having bought off plan. With her neighbours, she was informed of a ground rent payment of £250 that would be payable each year.
"Although this seemed steep, we were assured that this was quite standard on new properties and accepted the explanation from Taylor Wimpey and their recommended solicitor," Ms Chapple tells the MPs.
"It has come to light in the last week that in fact the ground rent will double every 10 years and that our payment on 1st January 2018 will be £500 and will lead to £8,000 per year in future years with the doubling 'ground rent view clause'."
"We relied on the trust of Taylor Wimpey and their solicitor to explain to us all aspects of the sale, particularly as we were first time buyers and using the Home Buy scheme to get a foot onto the property ladder.
"Both Taylor Wimpey and their solicitor took time to go through contracts, check our understanding and explain details to us, yet conveniently failed to go over this particular clause.
"For those of us who choose to stay in our property here for the long term, this means that there will be a point in the future that we are paying more in ground rent per year, than we would be on our mortgage payments which will lead to significant financial difficulty for many.
"For those of us who plan to move at some point, we are going to really struggle to sell our property with this clause in place, leading to the properties being unsellable and potentially leading to these and many other new builds being repossessed with the owners forced into bankruptcy."
"Many of us have used the government 'Home Buy scheme' to buy our first house and are now potentially going to suffer significant financial difficulty in the future due to this extortionate increase in ground rent."
A further cause of anger for Ms Chapple is that she lost three years of the lease on purchase – even though she says she bought off plan – and so is paying the doubling ground rent after only seven years, rather than 10.
Taylor Wimpey is invited to comment.