The number of articles in the national press on leasehold issues continues to grow. Today sees two articles published, one in The Times where it reports on cladding and one in The Sun.
The Sun gives its readers a very sensible cautionary guide to leasehold purchases including a mini guide to leasehold from LKP trustee Sebastian O'Kelly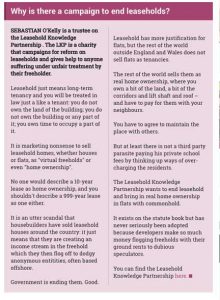 The main article asked: "Are leaseholds all bad?"
We would say yes: in almost all cases they are designed to keep the leaseholders in a position of legal inferiority.
The rest of the world simply does not sell communal property ie a flat as a tenancy: instead, you actually own your home.
THE difference between owning a freehold or a leasehold could leave you renting like a tenant in your own home. Here is the lowdown on the differences between the two and why the government is ending leaseholds. Most houses are sold as freeholds as it is the most straight forward way of owning a home.
But at least The Sun did warn buyers: "If you find a house that you want to buy and it happens to be a leasehold you should still consider buying it.
"Just make sure you check over with a solicitor that the leasehold contract doesn't contain clauses for extortionate ground rent or the power for the landlord to charge you extortionate fees for trying to extend the house or own a pet."
[su_frame]Less succesful are The Suns quotes from a "Money Expert" at another of the government funded bodies offering "free and impartial advice"
On this occasion, it's the "Money Advice Service" where their expert sets out some of the issues which buyers should consider. The problem is some of his advice is just wrong.
"Check how many years are left on the lease? You may struggle to get a mortgage on a leasehold property which has less than 70 years to run. A short lease will be a lot more expensive to extend".
WRONG: buying with less than 80 years left on the lease will almost always cause problems. It also means the cost of extending your lease will go up. The cost begins to increase for every year's less than 80 years left on the lease due to something called "marriage value". When you buy a lease you also have to wait for two years before you have the right to extend the lease. A minimum of 85 years left on the lease is now the more common recommendation.
If you have a home with less than 80 years left on the lease it also mean you may find it more difficult to sell and the price will go down as the lease becomes shorter and shorter.
"Ask about the cost of extending your lease now if this might be an issue in the future. You don't want anything that could impact your properties saleability in the future."
WRONG: the chances are the vendor, their solicitor and your solicitor will not know what this price might be without taking separate advice from a valuation surveyor. LKP always advises following the formal route to lease extension. Reaching an "informal agreement" with the landlord outside the terms of the legislation opens you up to the risk of accepting terms which will turn out to be to your disadvantage at a price higher than you might need to pay if your follow the formal route. The government is currently reviewing the legislation in this area with the specific objective or making such calculations more predictable
"Ask how much the ground rent is? This may be a relatively small amount now but beware escalating ground rents which have seen substantial figures payable at the end of the term of the lease. This could negatively impact your ability to sell your property in the future."
WRONG: If the property has onerous lease terms they are likley to impact you now rather than at the end of the lease. In particular, such terms are likley to limit your ability to obtain a mortgage. A number of lenders will no longer lend on certain lease terms. Check with your lender before making any decision to buy.
"Ask about service charges and other related costs? This generally covers repairs or maintenance to the property including buildings insurance. This can be several hundred or several thousands pounds, so consider how you will budget for these costs and the impact of any future increases."
PARTLY WRONG. Your service charge normally consists of two elements. The service charge itself, which pays for reoccurring costs such as staff, insurance, communal electricity etc this is normally a fairly consistent amount with goes up over the years depending on the level of services provided.
The potentially more important issue to consider is the reserve/sinking fund which pays for major works such as repainting the building or replacing the roof or changing the door entry system. It is very important to check what the expected major works bills are likley to be. Ask what the planed building and plant expenditure is for the next five years and how much has been collected. Like any building some things can go wrong out of the blue but if a site has a well planned maintenance schedule you're lest likley to get a shock Check that your solicitor is going to keep a retention as part of the purchase in case there is a deficit in the service charge accounts from the period before your purchased.
LKPs recomendations on other things to check.
Unless the flat is in a very small block your solicitor will probably be provided with a pack of information from the managing agent showing the budget costs and past accounts. Make sure you obtain a copy of this file rather than just assume your solicitor will spot any potential problems. Most potential buyers do not realise that some of the largest bills are more common in the social sector blocks. It is not uncommon for there to be no reserve/sinking fund in social sector blocks so all the money has to be found in one go. It is a particular problem that some local authority landlords suddenly announce a major works projects costing £20,000 per flat.
Make sure you read the solicitors "report on title". This should set out any issue they consider is a potential risk.
If the flat owns a share of the freeholds that's a plus as there is no third party landlord to make a profit from you
If the flat has an Residents Management Company or a Right to Manage Company that's also a potential bonus as the leaseholders have more control
If it's a leasehold house with estate charges check if your landlord is one of the ones now looking to make large "administration charges" for permissions to let you make changes to your home.
[/su_frame]
The Times also ran an excellent piece by David Byers on how to avoid a shoddily built new home with leasehold and other pitfalls:
Vibrating floorboards, pipes fitted badly, poor drainage and excrement behind kitchen cabinets: these were just some of the construction faults revealed by a new Times investigation into Bovis Homes.It follows warnings last year by a host of experts, including Kirstie Allsopp, the television presen
The Times journalist Andrew Ellson covered the Barratt payout at Citiscape:
Residents of private flats with Grenfell Tower-style cladding have been saved from a £2 million bill to make their block safe after Barratt Developments agreed to pay for repairs. The company, which built the 95-apartment Citiscape building in Croydon, south London, in 2001, confirmed that it w
As did the Mail
Barrett Developments has said it will pay for fire safety costs to make block safe They are footing the bill despite residents losing a tribunal over who should pay Sajid Javid applauded the company for protecting leaseholders, and said: 'I want to see all leaseholders in this position get the peace of mind they deserve' Developers of a high-rise block that failed fire safety tests will pay for safety measures estimated to run into the millions of pounds, including replacing its Grenfell-style cladding, the Government has said.
And the The Guardian
Residents of a private housing complex in Croydon clad in similar flammable panels to Grenfell Tower have been told they will not have to pay £2m to make their home safe, after the company that built the block said it would meet the costs instead.