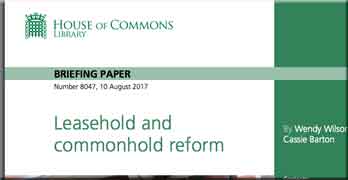 The Commons library has done a superb job of spelling out the problems of leasehold.
It is the first time we have seen a third party report into this sector with no regard to the disingenuous interventions from self-interested professionals, trade bodies, dubious "stakeholders" or compromised quangos.
Its report, published yesterday and written by Wendy Wilson and Cassie Barton , will be used by MPs to drive policy in this area and it can be read in full here: House of Commons Leasehold Reform
The main points are:
Leasehold is a growing form of tenure with 4 million homes, 70% of them flats.
New-build leasehold houses have risen from 7% of transactions in 1995 to 15% in 2016.
"There is some evidence that developers are opting to sell new-build houses on long lease agreements as this can represent a lucrative future income stream."
The Leasehold Advisory Service says 57% of leaseholder in a survey regretted buying leasehold.
(This was commissioned by Roger Southam of Brady Solicitors. Both Mr Southam and Bradys have advised freeholders on maximising ground rents. LKP warned leaseholders not to participate: in fact, what resulted was a spectacular own goal for those who monetise from leasehold.)
LEASE uses debt-collecting Brady Solicitors for leaseholder survey
57% of leaseholders regret buying their property, says LEASE
The Commons Library makes clear that the government is noting the work of the All Party Parliamentary Group on leasehold and commonhold reform, of which the Leasehold Knowledge Partnership is the secretariat.
The APPG and its report are referenced throughout
London and the NW are the epicentres of leasehold, with the Polar and Limehouse constituency of Jim Fitzpatrick, an LKP patron, having the highest proportion at 97%.
Oldham, Bolton, Bury, Burnley, Leigh and Hyndburn all have about 70% leasehold houses in their areas.
The Commons Library references the reforms since 1967.
But:
"Despite legislative activity in this area, long leaseholders are still calling for further reform. Organisations such as the Leasehold Knowledge Partnership and the related Better Retirement Housing campaign argue that the balance of power is still weighted in freeholders' favour, and have highlighted continuing issues associated with leasehold ownership …
Of leasehold houses, the Commons Library reports:
"Press reports have indicated that buyers of new-build homes are sometimes told that they will be able to buy the freehold interest for a certain amount once they have been owners for two years. However, developers often sell-on their freehold interest and the Government's July 2017 consultation paper says that "consumers can find that they are faced with significant legal and surveyor costs where they want to purchase the freehold."24 There is no duty on a freeholder of a house to inform the leaseholder of a change in ownership, nor does the leaseholder have a 'right of first refusal' to buy the freehold interest at that point. However, qualifying long leaseholders' statutory right to enfranchise is still exercisable against the new freeholder, and disputes over the valuation can be referred to a First-Tier Tribunal (FFT) as outlined above"
https://www.leaseholdknowledge.com/wp-content/uploads/2017/04/AllPartyParliamentaryGroupLeaseholdReportApril27.pdf
"A ban on the sale of new build houses on a long lease is supported by the APPG "unless there is a legitimate reason why the land can only be owned under a leasehold."
It notes that the APPG also wants to remove the two-year moratorium on buying the freehold and limited the cost of formal purchase of freeholds.
There should be a formula to establish lease extension and freehold values.
Solicitors Hart Brown are quoted referencing developers' "pet solicitors":
It says:
"Many of our clients have complained that they were not properly made aware that they were buying a leasehold house or of the potential costs of acquiring the freehold at a later date. An independent solicitor has no relationship with the developer and is not dependant on the developers' referrals for business."
Sir Peter Bottomley's call for onerous ground rents to be banned, is quoted.
Right to manage is examined, with reference to the Elim Court case, reported on this website and here
Elim Court was discussed in the leasehold debate of December 20 by former MP Oliver Colvile (to whom LKP pays tribute and thanks).
Please follow and like us:Elim Court in Plymouth has escaped from its right to manage debacle by the skin of its teeth, having been led to near ruin by right to manage facilitators. After having had its right to manage application turned down in the lower tribunal (freeholder's costs: £10,000) and then thrown out by …
The APPG wants right to manage to be reformed, stopping landlords delaying the process and adding costs.
The damage done by the unfortunate Triplerose case which has undermined leaseholder empowerment in multi-block sites needs to be repaired, according to the APPG.
The Commons Library notes Sir Peter Bottomley insisting on the regulation of leasehold managing agents who gather the fund for blocks of flats and are responsible for them:
"How can a self-regulation system that does not consider such court findings as warranting even an admonition retain the confidence of the general public? The Government have argued for years that there is no need for statutory regulation, but can anyone name a group that supports that position? Even the main managing agents trade body, the Association of Residential Managing Agents—ARMA—has been asking the Government to regulate the sector."

"Leasehold is the only part of the housing market where an unregulated person can hold huge amounts of leaseholder funds and yet has no obligation to act in the leaseholder's interests. Let me remind the House of something: when the freeholder appoints a managing agent, who does the managing agent work for? It is the freeholder."
Hart Brown solicitors is again cited expressing concern regarding abuse of service charge:
"Currently managing agents, who are often acting on the instruction of the landlord, but spending the leaseholders' money, are unregulated."
Forfeiture is addressed, with the APPG saying:
"In bringing forward the Law Commission's recommendations, the Government should consider how the use of forced sale applies in commonhold regimes around the world and "consider if the Commission's wording might be adopted to any future review of commonhold in England."
Leasehold retirement properties and event fees are considered, with the APPG questioning the Law Commissions enthusiasm for the fees as a means to fund retirement development.
It addresses commonhold, and why it failed to grow, and looks at private estate charges on freehold houses.
The Commons Library reports and notes the appalling injustice of the Dennis Jackson case, which Sir Peter Bottomley discussed in the Commons on December 20 last year.
SCANDAL: LKP stops forfeiture of £800,000 flat … over a £7,000 service charge dispute