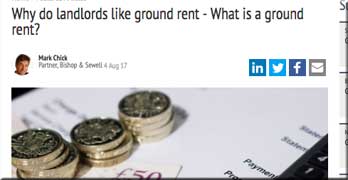 Here is landlord and tenant solicitor Mark Chick, of Bishops & Sewell, explaining that ground rents are a really dull investment and who would have thought they would make the front page of The Times.
"Ground rents will never 'set the world on fire' in investment terms …"
Tell that to Vincent Tchenguiz, Goldman Sachs, Rothesay Life, Frank Sixt, William Waldorf Astor, James Tuttiett, Steve Morgan, Jeff Fairburn, Peter and Nicholas Gould etc
More from Mr Chick in News on the Block here (well, it isn't Investors' Chronicle):
Next up comes Cassandra Zanelli, now with PM Legal Services, on Nationwide declining to lend on onerous lease terms.
She rightly points out that the public statement refers only to new build property.
In fact, mortgage lenders are markedly nervy over leasehold properties at present, and declining loans at the merest suggestion of games being played with lease terms and ground rents.
LKP is informed – by aggrieved buyers and sellers – of deals falling owing to mortgage lenders concerns virtually every day.
LKP is always interested in hearing more from Cassandra Zanelli.
Last year, when employed by Taylor & Emmet LLP she attempted to suppress LKP's article on leasehold gameplayer Martin Paine, writing:
"I emphasise that our clients position is entirely reserved in respect of further action they may take relating to defamation, together with damages and costs, should you proceed to publish the article.

"I trust that no steps will be taken to publish the article until such time as my client has had opportunity to take advice … "
A case of no Paine, no gain, eh Cassandra?
QUESTION I have an RPI Lease which has an annual ground rent more than 0.1% of the capital value which is now not approved of by Nationwide. Is this likely to cause me a problem in the future? ANSWER
And here is Phil Parkinson, legal director of JB Leitch debt collectors, offering some quite sensible advice on why leaseholders have to do what they are told by their landlord.
It is noteworthy in being one of the few emissions from JB Leitch that does not use the F-word. That is, F for forfeiture.