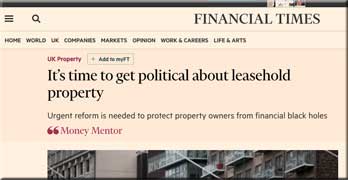 The Financial Times today produces an important article urging reform to protect leasehold property owners.
Now is the "perfect time for the political parties to grasp the deadly nettle of leasehold property", says Lindsay Cook, who wrote a brilliant article on leasehold in July.
Leasehold is a feudal, wasting asset with opportunities for exploitation, says the Financial Times in a devastating article
She writes that leasehold has doubled over the past 10 years from 22 per cent to 43 per cent of sales.
The FT discusses commonhold tenure, which involves the indefinite freehold tenure of a multi-occupancy building with shared ownership of, and responsibility for, common areas and services.
"Commonhold just works," the FT quotes Sebastian O'Kelly, of the Leasehold Knowledge Partnership. "It is on the statute book. It is what the rest of the world, including Scotland has."

By contrast, he says the leasehold tenure gives "ample scope for exploitative and semi-criminal behaviour".
But the FT points out that not many of the large volume lenders are geared up for commonhold properties, according to the CML, although mortgages are freely available for shared-freehold flats.
LKP reported a commonhold site in Pickering, North Yorkshire, called Spire View. Ironically, it was taken into receivership by Royal Bank of Scotland during the downturn, which won't issue mortgages on commonhold title.
This is doubly ironical given that RBS was doling out loans on every flakey property asset going.
When it actually owned a site with absolute security of tenure, it was more happy with leasehold – even though banks are hitting the brakes now they realise how lease terms are eroding values.
The FT article references the Taylor Wimpey £130 million to sort out customers disadvantaged by doubling ground rents on leases drawn up between 2007 and 2011.
It also reports the decision of Nationwide yesterday, announcing it would not lend against new-build leasehold property under its "minimum acceptable" terms of 125 years for flats, and 250 years for houses.
In addition, Nationwide's "maximum acceptable starting ground rent on all new-build properties will be limited to 0.1 per cent of the property's value".
The FT says this is "a welcome step — but it will not help existing owners of new-build leasehold homes".
Nationwide bans mortgages on doubling ground rent properties
The government has indicated that it will legislate "to stamp out" leasehold abuses. Sajid Javid, the secretary of state at the Department of Communities and Local Government, told MPs: "I don't see how we can look the other way while these practically feudal practices persist."
He said he planned to ensure that Help to Buy equity loans would only be available "to support new-build houses on acceptable terms", and that leasehold abuses should be added to consumer protection laws.
However, the CML is concerned that a crackdown on leasehold new-build houses could potentially blight all existing leasehold properties.
CML says lenders 'reviewing loans to reflect concerns about onerous ground rents'
Ripe for reform
The more you look into leasehold, the more you realise how the whole system urgently needs reforming, Lindsay Cook writes.
"So come on, politicians. It's time to give greater consumer protection to millions of leaseholders in England and Wales, and seriously consider commonhold as an alternative."
The FT offers this checklist for homebuyers
Do not buy a leasehold house; there is little or no reason to do so, especially as they are usually not cheaper than freehold houses.
Check the ground rent of any leasehold property and whether it will increase over the years.
Do not consider buying a property with less than 85 years on the lease.
Check which charges are included in the service charge. This is especially important with a new-build. If it looks too cheap for the services provided, expect the cost to rise once the whole development has sold.
When buying from an existing leaseholder, there should be a record of the costs in previous years
Ask the vendor whether there have been problems with the service charge.
Leaseholders must always pay their service charge or ground rent — even when there is a dispute — as there is a risk that they can forfeit their property if they get into arrears. About 130 applications a year are made and about 65 leaseholders lose their properties.
Beware if you buy a former council property; you can be hit with very large bills for repairs as such properties do not operate funds to cover major expenditure.